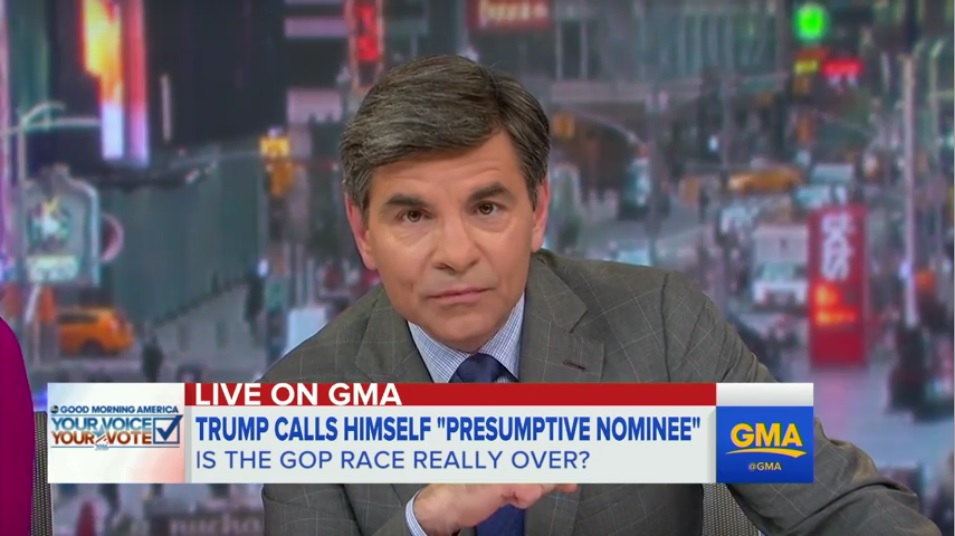 Mr. Trump seemed to relish injecting gender politics into the race as he looks ahead to a potential general election matchup with Mrs. Clinton. In an interview with ABC's "Good Morning America," he claimed that women do not like Mrs. Clinton and that he has every right to attack her if she plays up the fact that she would be the first female United States president.
It's not sexist. It's true. It's just a very, very true statement. If she were a man, she'd get 5 percent. She's a bad candidate. She's a flawed candidate. She's not going to do very well in the election, and I look forward to showing that.
And again on Morning Joe on MSNBC he repeated the claim. Remarking that he was still "recovering" from Clinton's "shouting," an increasingly high-energy Trump remarked:
I know a lot of people would say you can't say that about a woman, because of course a woman doesn't shout. The way she shouted that message was not — that's the way she said it, and I guess I'll have to get used to a lot of that over the next four or five months.
Mrs. Clinton addressed Mr. Trump's new line of attack during her victory speech on Tuesday night, telling voters to "deal me in" when it comes to Mr. Trump's suggestions that he is trying to capitalize on her gender and argued that she would be the best candidate to defend women's rights on health and in the workplace.
Reality
The statement that Hillary Clinton plays the woman card is one that Trump has repeated many times over the course of his campaign.
A USA Today-Suffolk University poll released this week found that 66 percent of likely female voters nationwide have an unfavorable view of Trump, compared with 48 percent who have a negative opinion of Clinton. And women are far more likely to have intensely negative views of Trump. A Washington Post-ABC News poll earlier this month found that 64 percent of women feel "strongly unfavorable" toward Trump, compared with 41 percent of men.
Media
Good Morning America
Morning Joe