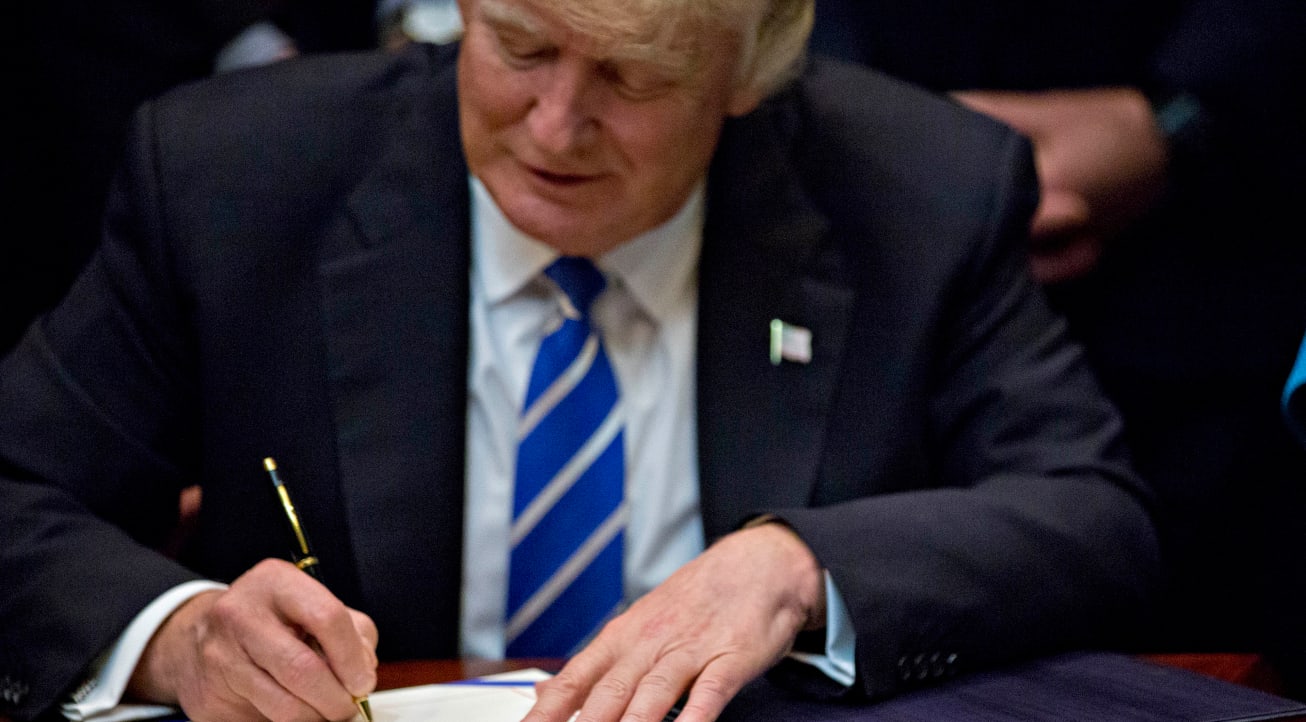 The Trump administration is seeking to completely revamp the country's social safety net, targeting recipients of Medicaid, food stamps and housing assistance.
Trump is doing so through a sweeping executive order that was quietly issued earlier this week – and that largely flew under the radar.
It calls on the Departments of Health and Human Services, Housing and Urban Development, Agriculture and other agencies across the federal government to craft new rules requiring that beneficiaries of a host of programs work or lose their benefits.
Trump argued with the order, which has been in the works since last year, that the programs have grown too large while failing to move needy people out of government help.
"Since its inception, the welfare system has grown into a large bureaucracy that might be susceptible to measuring success by how many people are enrolled in a program rather than by how many have moved from poverty into financial independence," it states.
The order is directed at "any program that provides means-tested assistance or other assistance that provides benefits to people, households or families that have low incomes."
Democrats have blasted the effort, arguing the order blends the issues of welfare and broader public assistance programs in a deliberate way they say is intended to lower support for popular initiatives.
"Welfare" has historically been used to describe cash assistance programs like Temporary Assistance for Needy Families. Democrats and liberal activists say the Trump administration is seeking to expand the definition of welfare to mean food stamps, Medicaid and other programs as a way to demonize them.
"This executive order perpetuates false and racist stereotypes about certain groups supposedly taking advantage of government assistance," House Democratic Whip Steny Hoyer (Md.) and Rep. Barbara Lee (D-Calif.) said in a joint statement reacting to the order.
President Trump "is trying to erect a smokescreen in the shape of Reagan's 'welfare queen' so people don't see he's coming after the entire middle and working class," said Rebecca Vallas, managing director of the Center for American Progress's Poverty to Prosperity Program.
Welfare reform has long been a goal of GOP lawmakers, and there's broad support in the Republican conference for changing the federal safety net to impose stricter work requirements and block grant state funding for programs like Medicaid and food stamps.
While noting that he hadn't seen the specific text of the executive order, Rep. Tom Cole (R-Okla.) said he supports the concept.
"For able-bodied, single adults, I certainly favor work requirements," Cole said.
With Republicans in total control of the government, conservatives have been hoping for a major legislative push to overhaul federal assistance programs.
Speaker Paul Ryan (R-Wis.) late last year said he wanted Republicans to work on entitlement reform, with a focus on promoting work and career-based education.
"We want to smooth the path from welfare to work, pull people out of poverty, pull people out of welfare," Ryan said in December.
Robert Rector, a senior research fellow at the Heritage Institute, said the executive order is meant to signal support to congressional Republicans.
"[Administration officials] have been talking to Congress, and the executive order is designed to set the table for them," Rector said. "Do what they can in the executive branch, and give support to similar efforts on the Hill."
But a short legislative calendar and a slim Republican majority in the Senate mean the administration may be largely on its own.
Agencies are limited in what changes they can make to their programs, so comprehensive welfare reform may be off the table without major legislation.
Republicans have already acknowledged they won't be able to cut spending on entitlement programs like Medicare, Medicaid and Social Security.
"I think it's very tough to get this thing through the Senate when it requires 60 votes. I certainly don't have any problem with the president taking initiative," Cole said.
The executive order doesn't set any new policy, but Center for American Progress's Vallas said the order is important as a messaging document, and it shows that Trump is willing to act without Congress.
"This is more of President Trump not being content to wait for Congress to dismantle these programs. This is him wanting to take matters into his own hands," Vallas said.
The order follows policy shifts already underway at various agencies.
Health and Human Services officials have encouraged states to pursue work requirements for Medicaid beneficiaries. Arkansas, Indiana and Kentucky have already been granted such waivers, and several other states have waivers pending with the administration.
Earlier this year, the Agriculture Department sought input on "innovative ideas to promote work and self-sufficiency among able-bodied adults" participating in the food stamp program.
In Congress, House Republicans unveiled a provision in the 2018 farm bill to expand mandatory work requirements in the food stamp program. The broader legislation will be marked up later this month, but it faces a long uphill battle.
The administration's effort could also face legal challenges. Medicaid advocates in Kentucky have already sued over the work requirements, and additional safety net changes could provoke even more lawsuits.
[The Hill]