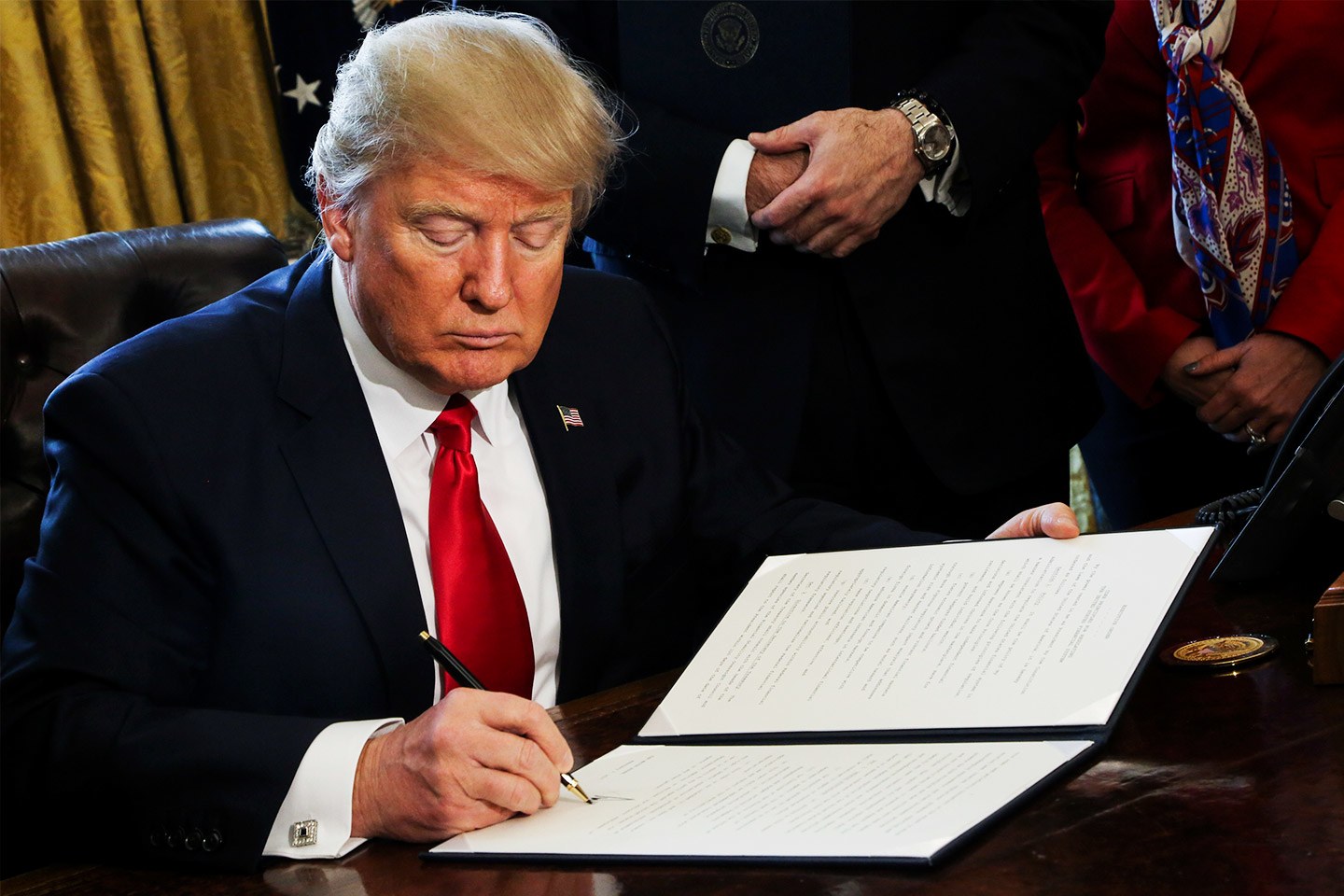 On Friday, Donald Trump signed an executive order intended to roll back Dodd-Frank, the sprawling regulatory framework President Obama signed into law in 2010 to avoid another financial crisis, which was not entirely beloved on Wall Street. He also scrapped a fiduciary rule intended to protect retirees by forcing brokers and advisers to "work in the best interest of their clients." (This, too, was controversial.)
According to its defenders, Dodd-Frank has been a modestly successful, if tortuous affair, requiring banks to bend over backwards to comply with regulations that protect investors and consumers from abusive practices and excessive risk. According to Trump, it was inconveniencing his friends:
"There is nobody better to tell me about Dodd-Frank than [JP Morgan C.E.O.] Jamie [Dimon]. So he has to tell me about it, but we expect to be cutting a lot from Dodd-Frank because, frankly, I have so many people, friends of mine, that have nice businesses, they can't borrow money," Trump said Friday morning, shortly before signing the executive orders. "They just can't get any money because the banks just won't let them borrow because of the rules and regulations in Dodd-Frank."
And here's how Gary Cohn, Goldman Sachs president turned White House National Economic Council Director made the case for getting rid of the fiduciary rule unveiled last spring:
"We think it is a bad rule. It is a bad rule for consumers. This is like putting only healthy food on the menu, because unhealthy food tastes good but you still shouldn't eat it because you might die younger."
That is literally the greatest analogy we've ever heard, and we challenge Cohn and the Trump administration to top it. (In fact, the only way they could is if Cohn appeared on Meet the Press on Sunday and said, "The fiduciary rule is like only putting out vape pens at a party, because crystal meth feels good but you still shouldn't smoke it because you might die younger." Let the consumer have their meth! How could more choice be bad, in an industry defined by vast asymmetries of information between brokers and consumers?
Oh, and in case you were wondering: Elizabeth Warren is obviously pissed about all of this.
"Donald Trump talked a big game about Wall Street during his campaign—but as president, we're finding out whose side he's really on," the Massachusetts senator said in a statement. "Today, after literally standing alongside big bank and hedge fund C.E.O.s, he announced two orders—one that will make it easier for investment advisers to cheat you out of your retirement savings, and another that will put two former Goldman Sachs executives in charge of gutting the rules that protect you from financial fraud and another economic meltdown."
Warren, along with Senator Tammy Baldwin, also sent a letter to Gary Cohn telling him he ought to "recuse himself from decisions directly or indirectly related to Goldman Sachs."
(h/t Vanity Fair)