A large group of black students attending a Donald Trump rally at Valdosta State University Monday were escorted out by law enforcement before the event started.
The young people said they had planned to sit in silent protest, but were escorted out by security officials before the presidential candidate began speaking. The incident was recorded on video by several attendees. (Some of the footage can be found here, here and here.)
"We didn't plan to do anything," Tahjila Davis, a 19-year-old mass media major, told The Des Moines Register. "They said, 'This is Trump's property; it's a private event.' But I paid my tuition to be here."
Brooke Gladney, a 22-year-old marketing and business management major, said: "The only reason we were given was that Mr. Trump did not want us there."
News reports placed the number of students escorted out at about 30.
Kicking out anticipated protestors isn't an uncommon practice for Trump events, but this was one of the largest groups so far in his campaign. It occurred hours after a Secret Service agent choke-slammed a Time magazine photographer attempted to capture images of #BlackLivesMatter protesters at an event in Virginia.
Though at least one outlet reported the students were kicked out based on a request by the Trump campaign, the campaign denies that was the case.
"There is absolutely zero truth to that," says campaign spokeswoman Hope Hicks.
Reality
MSNBC's Chris Hayes did some digging and no only were the kids there not to protest: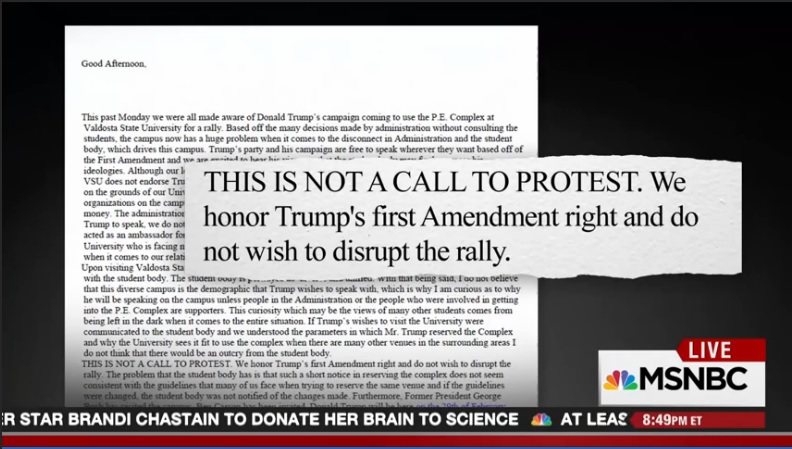 But Capt. Stryde Jones from the Lowndes County Sheriff's Dept. went on record and told MSNBC:
"A member of the [Trump] event staff approached a member of our agency and requested that the group be asked to leave."
Furthermore, the Valdosta Police Chief Brian Childress' went on record and made a statement backing up Captain Jones' account:
"I spoke to a Trump staffer, whose name I do not have, she told us that they needed to leave. Not only did I talk to a Trump staffer, so did the University police, and we were told over the radio by the Sheriff's office that Trump staff wanted them out."
Now a Trump supporter could easily dismiss this out of hand, call the students "thugs" or "potential thugs", but think about this: Trump and his supporters constantly paint the African-Americans and the Black Lives Matter movement with disdain and contempt and usually counter with a call to support law enforcement and "police lives matter." So how can they logically reconcile this belief when law enforcement publicly backs up African-Americans over their Trump??
Media
Video from inside Trump rally of students led out from bleachers. Courtesy Kiebbler Carter, 22, who wasn't removed. pic.twitter.com/Ubmjq492DL

— Jennifer Jacobs (@JenniferJJacobs) March 1, 2016
VSU TRUMP RALLY #BlackLivesMatter And this is the school we attend… pic.twitter.com/sWfX4RksFd

— Mikey (@Mikey_Spiffy) February 29, 2016