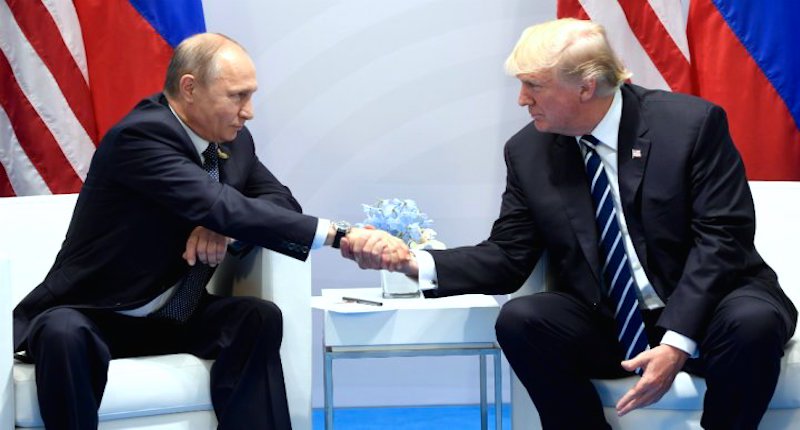 A new investigation from Vice News reveals that two senior Trump administration officials were once registered lobbyists for a Russian-born businessman who has deep ties to Putin-connected Russian oligarchs.
According to Vice, Makan Delrahim — the Assistant Attorney General for the Antitrust Division in the Department of Justice — and David Bernhardt — who is currently the No. 2 official at the Department of the Interior — were registered lobbyists for Access Industries, a holding company under the control of Soviet-born billionaire Leonard Blavatnik.
Blavatnik, who is a naturalized dual U.S.-U.K. citizen, is connected to Russian oligarchs via Access Industries' large stake in Russian aluminum company UC Rusal. Two other men who have large stakes in UC Rusal are Oleg Deripaska and Viktor Vekselberg — Russian businessmen who were recently hit with sanctions by the United States Treasury Department.
What is particularly notable about Blavatnik, notes Vice, is that he once spread out campaign donations fairly evenly between Republicans and Democrats — before shifting heavily in favor of the GOP during the 2016 election cycle, when President Donald Trump was the party's nominee.
What's more, he's continued to give to Republicans since Trump's election.
"Although he didn't donate directly to Trump's campaign, after Trump won, Access Industries gave a further $1 million to the Presidential Inaugural Committee," Vice News reports. "And according to The Wall Street Journal, Blavatnik gave $12,700 in April 2017 to a Republican National Committee fund that was used to help pay for the team of private attorneys representing Trump in the probe of Russian interference in the 2016 election."