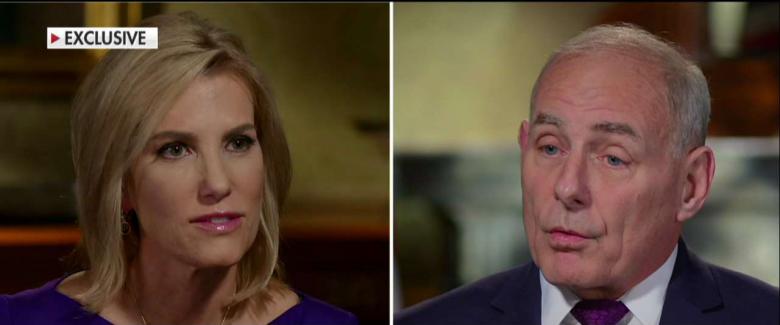 White House Chief of Staff John Kelly told Laura Ingraham Monday night he was too busy to "watch very much in the TV" about the day's indictments and guilty pleas by former Donald Trump campaign figures in Robert Mueller's probe of Russian election meddling.
Ingraham, opened the debut of her Fox News Channel 10 PM program The Ingraham Angle, [you can watch debut below] with zippy thoughts on What Is America?, accompanied by photos of Old Frank Sinatra:
Politics is supposed to be a career devoted to public service…but for too long was dominated by special interest, big business and…media elites.

The politicians were supposed to…run the government, not to run you over with it!

Americans voted for Trump because they tired of being bullied by politicians and so called experts who gave us endless wars, saddles us with $20 trillion in debt, and left us with a border more wide open than Harvey Weinstein's bathrobe.
But the debut's headline was her interview with Kelly, whose been MIA media-wise since his dramatic appearance at a White House press briefing, in which he savaged Florida Rep. Frederica Wilson. Ingraham first asked him about  the day's indictments of the president's former campaign chair Paul Manafort, his associate Rick Gates, and "another minor aide" in the Trump administration, aka foreign relations adviser George Papadopoulos.
"All of the activities, as I understand it, that they were indicted for was long before they ever met Donald Trump or, or had an association with the campaign," Kelly answered, inaccurately.
Monday's news on former Trump foreign policy adviser George Papadopoulos was that he had pleaded guilty to lying to the FBI about his contacts with Russia while working for the Trump campaign, and has been cooperating with the special counsel investigation since his July arrest.
"But I think the reaction of the administration is, let the legal justice system work. Everyone's presumed innocent and we'll see where it goes," he added.
Asked if the staff is "worried that when indictments start being handed down, that this is just the first, second, third shoe to drop, but there will be many more to follow?" Kelly answered, "I think the staff is very comfortable with simply serving the nation. The vast majority of the staff would have nothing to do with any of this kind of thing. So there's no worry about it. Everyone is just doing the things that they were hired to do to serve the nation."
Ingraham moved on to his comments about Rep Frederica Wilson after she claimed to have heard President Donald Trump telling La David Johnson's widow her husband knew what he was signing up for, but that it hurt anyway. At a White House press briefing, Kelly slammed Wilson for listening in on that private moment, and recalled his previous encounter with the Florida congresswoman. Kelly called her an "empty barrel,"  claiming that, at the dedication of an FBI building named after two slain agents, Wilson took the podium to boast that she'd raised the funds for the building.
Ingraham noted clips of that dedication show did not brag about getting funding, though, she hastened to add, Wilson "certainly used the word 'I' a lot."  Video showed Wilson actually boasted about getting quick action on naming the building after the two slain FBI agents.
Kelly wasn't backing down, explaining Wilson did more talking before and after the formal ceremony.  "It was a package deal," he said, adding, "I don't want to get into it."
"Do you feel like you have something to apologize for?" Ingraham wondered.
"No. Never," Kelly shot back. "I'll apologize if I need to. But for something like that, absolutely not. I stand by my comments."
Last month, after FNC announced it had parted ways with Eric Bolling, the network announced Sean Hannity was moving from 10 PM ET to 9, to take on MSNBC's ratings powerhouse Rachel Maddow. Ingraham got the 10 PM timeslot.
Media