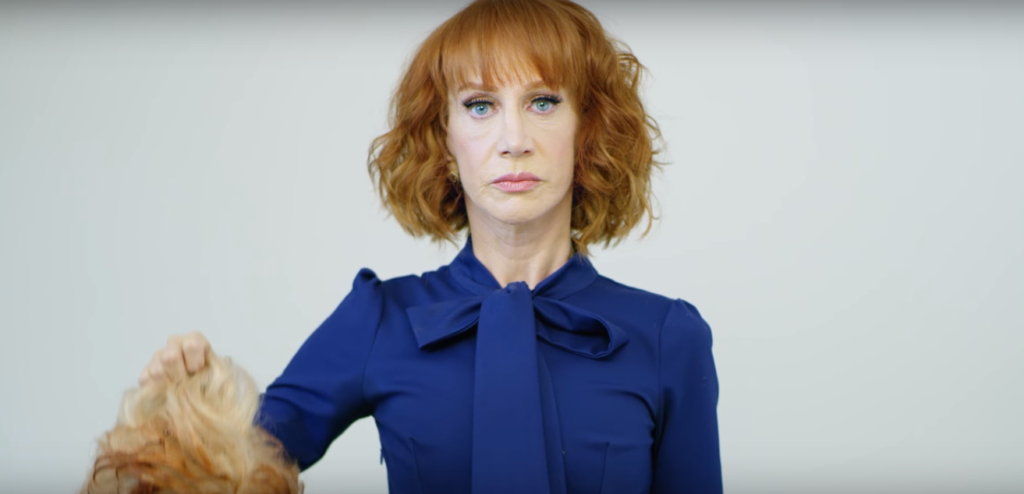 President Donald Trump lashed out at Kathy Griffin on Twitter early Wednesday, telling the caustic comedian that she "should be ashamed of herself" and think of "my children" for posing with a fake bloodied and decapitated head made in his likeness.
"Kathy Griffin should be ashamed of herself. My children, especially my 11 year old son, Barron, are having a hard time with this. Sick!" Trump tweeted.
First lady Melania Trump weighed in on the graphic image, saying that she found the images "very disturbing."
"As a mother, a wife, and a human being, that photo is very disturbing," she said. "When you consider some of the atrocities happening in the world today, a photo opportunity like this is simply wrong and makes you wonder about the mental health of the person who did it."
Griffin sent shock waves through social media on Tuesday night after images of her holding a bloodied, decapitated model of what appeared to be Trump's head began circulating online.
Griffin posted a short video of herself raising the head on her Twitter account.
Griffin added in a follow up that she does "not condone ANY violence" but that she was simply "mocking the Mocker in Chief."
As the picture began to make the rounds, Trump's son Donald Trump, Jr., among others, posted the image on Instagram to express his disgust.
Kathy Griffin should be ashamed of herself. My children, especially my 11 year old son, Barron, are having a hard time with this. Sick!

— Donald J. Trump (@realDonaldTrump) May 31, 2017
CNN hosts Anderson Cooper and Jake Tapper both said the image was inappropriate. In a statement, CNN said it found Griffin's actions "disgusting and offensive," and said it is evaluating its New Year's Eve coverage, which Griffin co-hosts with Cooper.
As the backlash mounted, Griffin changed course and apologized.
"I sincerely apologize. I'm just now seeing the reaction of these images. I'm a comic. I crossed the line. I move the line, then I cross it. I went way too far," Griffin said.
I am sorry. I went too far. I was wrong. pic.twitter.com/LBKvqf9xFB

— Kathy Griffin (@kathygriffin) May 30, 2017
She went on to say the image was too graphic and that she had taken it down and asked the photographer do the same.
"It wasn't funny. I get it. I've made a lot of mistakes in my career. I will continue," Griffin said.
Griffin's ad campaign with Squatty Potty, a Utah-based bathroom products company, had been suspended, the company said.
Reality
You are right to hold the position that this clearly crossed the line and you are right to point out that this was only a piece of art captioned, "Blood coming out of wherever" that mocked Trump's own sexist comments towards Megyn Kelly and art shouldn't be censored. Ultimately this photoshoot by Tyler Shields, who is known for his provocative images, clearly had its intended effect to shock an audience.
However, that debate aside, what we should take away and learn from this incident is how disturbing it is that we hold our artists and comedians at a higher level of standards than our elected officials.