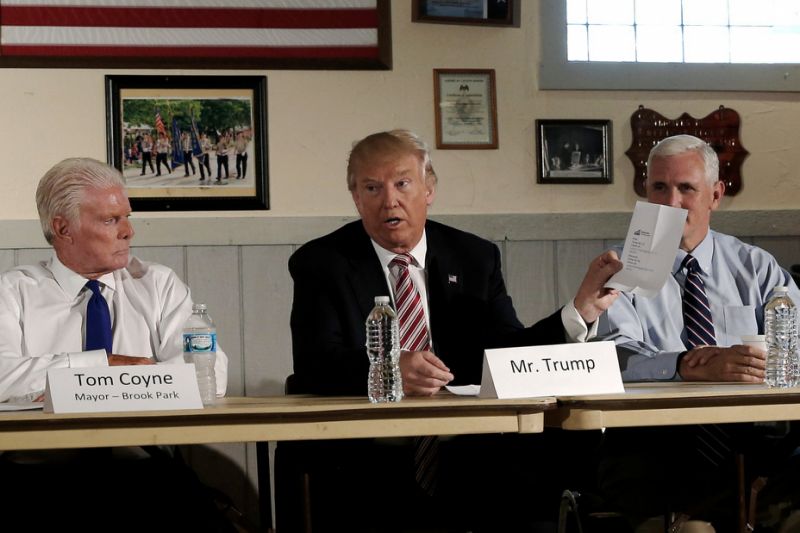 Donald Trump said Monday that he would have left the G-20 summit in China over a logistical flap that left President Obama disembarking Air Force One onto a plain metal staircase.
The president's subdued arrival on Saturday afternoon, from a secondary exit on the presidential plane, stood in contrast to other world leaders who departed their planes onto red-carpeted stairs — and some, including Trump, perceived it as a snub by Chinese officials.
They won't even give him stairs, proper stairs to get out of the airplane. You see that? They have pictures of other leaders who are … coming down with a beautiful red carpet. And Obama is coming down a metal staircase," Trumps said Monday at the beginning of a roundtable with labor leaders in Brook Park, Ohio.
"I've got to tell you, if that were me, I would say, 'You know what, folks, I respect you a lot but close the doors, let's get out of here,'" he added. "It's a sign of such disrespect."
The Clinton campaign quickly seized on the comments and criticized Trump's temperament. "Temperament Update: Trump would leave G-20 mtg b/c the staircase offended him and he was wrong abt the staircase," tweeted Clinton spokesperson Jesse Ferguson.
Trump has regularly accused Obama of failing to show strength against foreign leaders and has pointed specifically to Air Force One arrivals to make his point. He made similar claims that Obama had provoked a national embarrassment when Obama visited Cuba and Saudi Arabia earlier this year, calling decisions by the heads of state not to greet Obama at the airport "unprecedented."
"The truth is they [other countries] don't respect us. When President Obama landed in Cuba on Air Force One, no leader was there, nobody, to greet him. Perhaps an incident without precedent in the long and prestigious history of Air Force One. Then, amazingly, the same thing happened in Saudi Arabia. It's called no respect," Trump said in April.
The Washington Post's Fact Checker rated that comment false, giving it four Pinocchios and noting that heads of state have opted not to greet American presidents on airport tarmacs in the past.
Trump, talking about the staircase, added that he "guaranteed it was built in China, it wasn't built here, okay?" The stairs in question, which folded out from the center of the plane, were part of Air Force One.
(h/t Washington Post)
Reality
This is yet more evidence that Donald Trump does not have the temperament to be a world leader on a global stage if he would throw a fit over a small logistical mishap.
Media
https://www.youtube.com/watch?v=id6zRHjd1QY