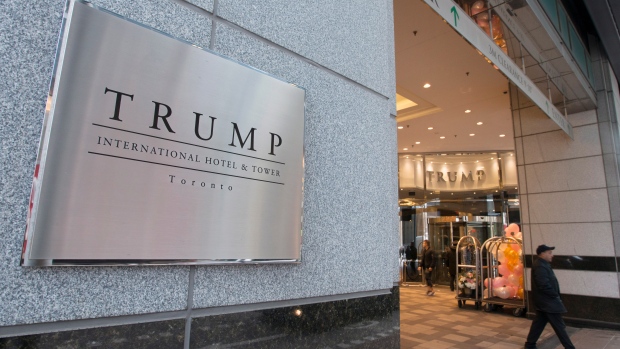 A Canadian judge has appointed a receiver to oversee the sale of a Toronto hotel-condo tower bearing the name of U.S. presidential candidate Donald Trump after the tower's developer failed to make payments on its loans.
The decision brings the 65-storey Trump International Hotel & Tower, the first Trump-branded hotel in Canada, one step closer to a change of ownership after several setbacks since it opened its doors in 2012.
In his presidential campaign, Trump has emphasized his credentials as a wealthy businessman, while his political opponents have long pointed out that his career includes business failures. The Toronto project showed the limits of Trump's brand in Canada.
The Toronto tower was developed by Talon International Inc., which licensed the Trump brand and hired a Trump-owned company to manage it.
Since its launch, less than half of its residential condos have been sold by Talon and the hotel's occupancy rates have been lower than some investors in the rooms had hoped. The average daily rate for hotel rooms in the building has declined by about 30 per cent, court documents suggest.
Some hotel unit buyers have said they were misled into investing and have launched lawsuits against Talon, which Talon has said are without merit.
(h/t CBC News)