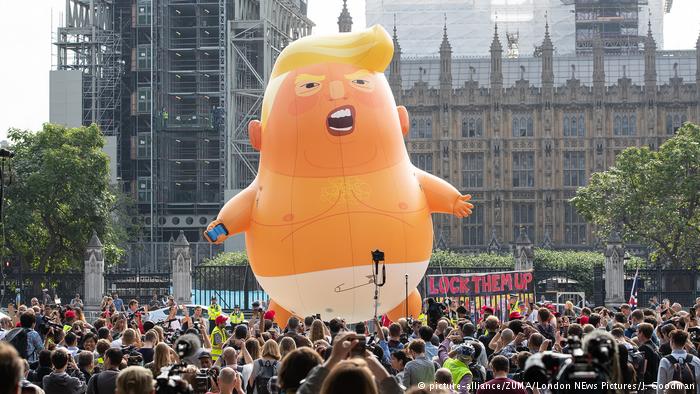 President Donald Trump came out swinging in a British tabloid interview Thursday, calling the mayor of London "soft on terrorism" and saying he felt unwelcome in the English capital.
In an interview with the British newspaper The Sun, Trump injected himself into a British political landscape still feeling the aftershocks of a cabinet shakeup fueled by a growing rift over Brexit. He said Boris Johnson, the former foreign minister who resigned this week in a split with Prime Minister Theresa May, "would make a great prime minister."
The interview was so explosive in the United Kingdom that White House press secretary Sarah Huckabee Sanders issued a late-night statement, clarifying that "the president likes and respects Prime Minister May very much" and "is a really terrific person."
Trump made clear he's firmly on the side of Johnson and others who want the United Kingdom to leave the European Union. He said he warned British Prime Minister Theresa May not to work toward a so-called "soft Brexit" that would maintain political and economic ties with the continent.
"I would have done it much differently. I actually told Theresa May how to do it but she didn't agree, she didn't listen to me," he said.
And he even warned that May's proposed compromise — in which the U.K. would maintain open borders with Europe while seeking more political autonomy — would kill the possibility of a U.S.-U.K. trade deal.
"If they do a deal like that, we would be dealing with the European Union instead of dealing with the UK, so it will probably kill the deal," he said.
More: President Donald Trump arrives to Britain in 'turmoil'
Trump will meet with May Friday, followed by a joint press conference and tea with Queen Elizabeth II at Windsor Castle before leaving for Scotland.
Trump called the 92-year-old queen — the longest-reigning monarch in British history — "a tremendous woman."
"My wife is a tremendous fan of hers. She has got a great and beautiful grace about her," Trump said in the interview, which took place in Brussels Wednesday morning but was published Thursday night.
More: Melania Trump stuns in sweeping Grecian-goddess J. Mendel gown for dinner at Churchill's palace
Although Trump is staying at the U.S. ambassador's London mansion during his two-day trip to London, all of his scheduled public events are outside the city.
"I used to love London as a city. I haven't been there in a long time. But when they make you feel unwelcome, why would I stay there?" he said  "I guess when they put out blimps to make me feel unwelcome, no reason for me to go to London."
Trump was referring to the 20-foot "Trump Baby" balloon floating above protests in London.
Trump also lashed out at his longtime nemesis, London Mayor Sadiq Khan, a Muslim who has criticized Trump's ban on travel to the United States from several predominately Muslim countries.
"You have a mayor who has done a terrible job in London. He has done a terrible job," Trump said "Take a look at the terrorism that is taking place. Look at what is going on in London."
And Trump suggested that Khan's criticism of him personally reflected a disrespect for the office he holds.
"He might not like the current president, but I represent the United States," Trump said.
Reality
Trump told May he wouldn't come to England until he had a warm welcome. He didn't get it.