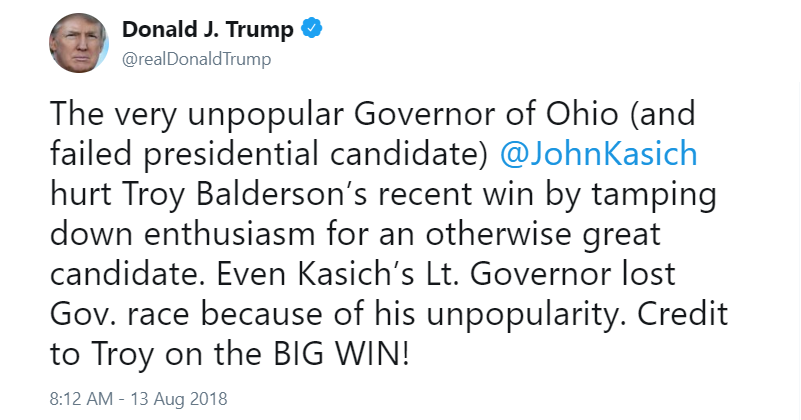 Donald Trump and John Kasich are fighting again, this time over probable Ohio special election winner Troy Balderson, and the President tweeted about it on Monday. Calling Kasich "unpopular," "failed," and unpopular again, Trump used the tweet as another red meat pitch to Ohio Trump voters for November.
The very unpopular Governor of Ohio (and failed presidential candidate) @JohnKasich hurt Troy Balderson's recent win by tamping down enthusiasm for an otherwise great candidate. Even Kasich's Lt. Governor lost Gov. race because of his unpopularity. Credit to Troy on the BIG WIN!

— Donald J. Trump (@realDonaldTrump) August 13, 2018
"Tamping down enthusiasm" isn't your typical Trump complaint, but otherwise true-to-type as he bashed Kasich's failure to win in 2016 and referred to a narrow squeaker as a "big win."
Balderson has essentially won, and declared victor, but the results are not technically official yet. Regardless, the narrowness of the margin is the subject at hand in a criticism from Ohio Gov. Kasich on Meet the Presson Sunday (echoing remarks he made to CBS the day after the election). "It wasn't a good night," said Kasich regarding last Tuesday's vote, "because this is a district that you should be winning by, you know, overwhelming numbers."
That's an analysis made by many political observers, but the reason for that razor edge is what really has Trump worked up. Many, including Kasich, blame Trump.
Kasich said it is a "message from the voters" to "stop the chaos" and "stop alienating people." He also offered broad critiques shared by other Trump-critical Republicans, such as arguing against "protectionism" and Trump's treatment of NATO allies.
And that is why on Monday the President returned fire in a tweet.
A win for Balderson is only a temporary salve should Kasich be proved correct about the sentiment of the voters; he faces the same Democrat challenger again in the regular election in November. In an effort to hold the House majority, the party and particularly the president certainly must and will make the case that Balderson is what Ohio voters are looking for, repudiation-free.
Kasich, who ran unsuccessfully for president in 2016, has not ruled out a 2020 run and, to anyone who observes Kasich, is in fact practically a lock to put his hat in the ring.
[Mediaite]