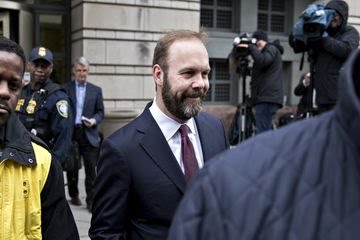 Even as he became the target of a federal investigators, Rick Gates, the former Trump campaign No. 2 and longtime partner of Paul Manafort, was being paid last year by two Trump allies for insider access to the new administration, the New York Timesreports.
The paper identifies the men as Elliott Broidy, a major Trump fundraiser and former deputy finance chairman of the Republican National Committee, and Tom Barrack, the billionaire Trump buddy who took a key role in planning his inauguration.
Broidy paid Gates $125,000 to help him in "courting foreign government clients for a defense contractor he had purchased in 2015, and pushing for policies that favored clients and prospective clients," the Timesreports. His missions while in Broidy's employ included advising the venture capitalist on how to get Trump to play golf with former Malaysian prime minister Najib Razak, whom Broidy was trying to butter up on behalf of his defense firm. The paper learned these details after it was leaked a series of emails stolen from Broidy, who has been in the news in recent months for his supposed affair with a Playboyplaymate.
Meanwhile, Barracks's company, Colony NorthStar, paid Gates $20,000 a month for his advice on issues related to the communications industry, he said last year. Gates's contracts with both Broidy and Barrack eventually dried up as Special Counsel Robert Mueller closed in on him. He would eventually be charged with a raft of financial crimes and illegal foreign lobbying, pleading guilty in February. He is now cooperating with prosecutors.
The Times describes these deals as Gates marketing his "administration access," but it's hard to imagine why Broidy and Barrack, who were both close to Trump, would need to spend so much money for access to the administration.