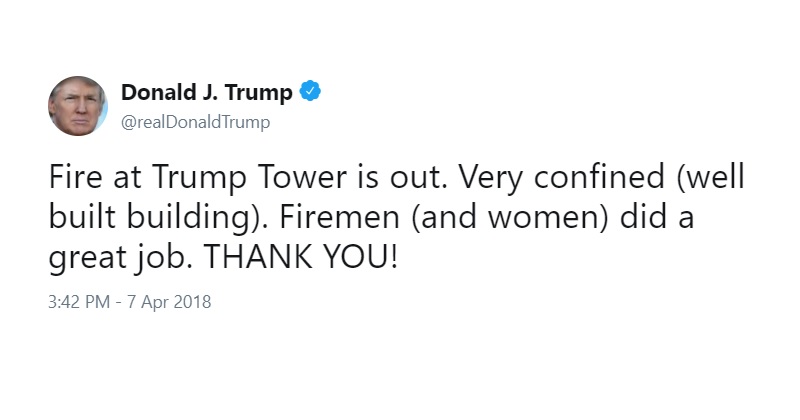 Depending on whom you followed more closely, there were two accounts of the fire Saturday night that tore through a 50th-floor apartment in Trump Tower, President Trump's namesake building on Fifth Avenue in New York.
The first narrative unfolded through official alerts and images from the New York Fire Department, which painted a picture of an extraordinarily challenging — and ultimately fatal — blaze to contain and extinguish.
The fire broke out just before 6 p.m. Saturday, officials said. Soon, flames could be seen making their way across the unit as dark plumes of smoke billowed upward, obstructing many of the floors above.
By the time firefighters arrived at the 50th floor of the building, they found "the apartment was entirely on fire," New York Fire Commissioner Daniel Nigro said Saturday.
Forcing their way into the unit, firefighters pulled out one person, unconscious and unresponsive, who had been trapped inside, Nigro added.
The man was taken to the hospital in critical condition, police said. He later died.
In all, six firefighters — of the roughly 200 or so who had responded — suffered minor injuries fighting the blaze, Nigro said.
#FDNY members remain on scene of a 4-alarm fire, 721 5th Ave in Manhattan. There is currently one serious injury to a civilian, and 3 non-life-threatening injuries to Firefighters, reported pic.twitter.com/c7qeOlDVcf

— FDNY (@FDNY) April 7, 2018
For the president, however, the fire seemed first a chance to boast of the construction quality of Trump Tower on Twitter, his preferred method of communicating with the public.
"Very confined (well built building)," Trump tweeted Saturday, about an hour after the fire broke out. "Firemen (and women) did a great job. THANK YOU!"
Fire at Trump Tower is out. Very confined (well built building). Firemen (and women) did a great job. THANK YOU!

— Donald J. Trump (@realDonaldTrump) April 7, 2018
Trump also declared that the fire had been extinguished — before it actually had been.
The fire was still not considered to be under control then because of smoke conditions above the 50th floor, Nigro said Saturday. It was brought under control shortly before 8 p.m. Saturday, about an hour after Trump's tweet, fire officials said.