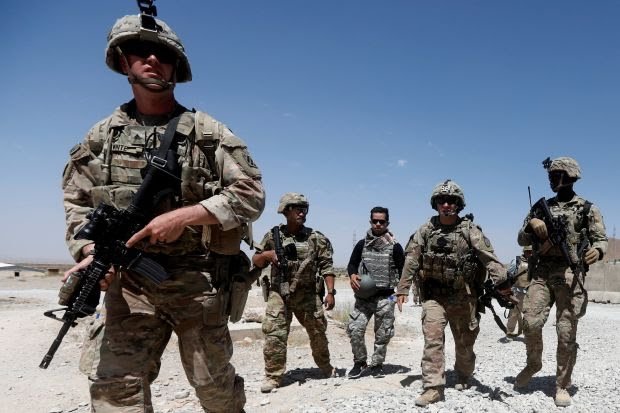 A day after a contested decision to pull American military forces from Syria, officials said Thursday that President Trump has ordered the start of a reduction of American forces in Afghanistan.
More than 7,000 American troops will begin to return home from Afghanistan in the coming weeks, a U.S. official said. The move will come as the first stage of a phased drawdown and the start of a conclusion to the 17-year war that officials say could take at least many months. There now are more than 14,000 U.S. troops in Afghanistan.
Mr. Trump announced Wednesday that he would pull all of the more than 2,000 American troops from Syria.
Taken together, the Syria withdrawal and the likely Afghan drawdown represent a dramatic shift in the U.S. approach to military engagement in hot spots around the world, reflecting Mr. Trump's aversion to long-running military entanglements with their high costs and American casualties.
"I think it shows how serious the president is about wanting to come out of conflicts," a senior U.S. official said of how the Syria decision affects his thinking on Afghanistan. "I think he wants to see viable options about how to bring conflicts to a close."
The shifts may have proven too drastic for some in the administration. On Thursday, Defense Secretary Jim Mattis submitted a letter expressing his intent to leave, saying, "you have the right to have a secretary of defense whose views are better aligned with yours."
Mr. Mattis's unexpected departure raises questions about whether Mr. Trump's plans will proceed as he directed.
The plans for troop withdrawals also reflect Mr. Trump's campaign promises and his "America First" approach to overseas involvements. In a Twitter message on Thursday, he wrote, "Time to come home & rebuild."
In both the Afghan and Syrian conflicts, Mr. Trump earlier this year voiced an interest in bringing troops home within the year or less, moves that were widely opposed within the U.S. national security establishment.
But Mr. Trump's impatience has deepened, and in recent days, the debate has grown more pointed, according to those familiar with the discussions. The Pentagon over the last weekend fended off a push by Mr. Trump to start bringing troops home from Afghanistan starting in January, officials said.
Mr. Trump's decision on Syria, like earlier foreign-policy decisions including his decision to leave the 2015 Iran nuclear agreement, was made without a formal consultative process within his cabinet, officials and lawmakers said, cementing his inclination to make key national security decisions on his own or in small groups that include national security adviser John Bolton and a few others. He also apprised few international leaders of his intentions.
The Pentagon and U.S. Central Command declined to comment on the Afghanistan plans. The move to reduce U.S. military involvement in the Middle East and Africa comes alongside a new national security strategy that designates geopolitical competitors such as Russia and China greater threats than terrorists or failed states.
Mr. Trump's decision on Syria was widely criticized by Democrats and Republican alike in Congress and national security experts across the government, an outcome that also is likely to greet his decision on Afghanistan.