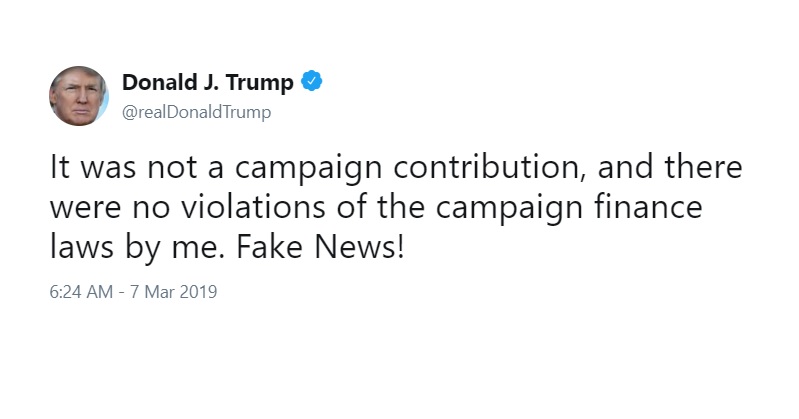 President Trump on Thursday doubled down on his assertion he did not break the law when he involved himself in a scheme to pay two women who alleged in the lead-up to the 2016 election that they had extramarital affairs with him.
"It was not a campaign contribution, and there were no violations of the campaign finance laws by me. Fake News!" Trump tweeted.
The comments come after The New York Times reported Trump signed checks to reimburse his former personal lawyer, Michael Cohen, while he was serving as president.
Cohen last year pleaded guilty to breaking campaign finance laws, in addition to other financial crimes, and lying to Congress. He was sentenced to three years in prison. Cohen implicated Trump in the scheme in court and in congressional testimony.
Federal prosecutors in December alleged that Cohen acted at the direction of "Individual-1," a person widely believed to be Trump, when he committed the campaign finance violations.
Prosecutors said the payments to Stormy Daniels, the adult-film actress who said she slept with Trump, broke the law because they were meant to influence the outcome of the election. Cohen reached the agreement with Daniels in October 2016, one month before Election Day.
During his explosive testimony last week to the House Oversight and Reform Committee, Cohen presented several checks signed by the president he said were meant to reimburse him for payments to Daniels.
The Times reported Wednesday that Trump authorized one of the checks for $35,000 in October 2017, nine months after his inauguration.
While the checks do not prove Trump committed a crime, they could be used as evidence by prosecutors should they pursue a case alleging that the president directed an illegal hush money scheme while in office.
Trump initially denied any knowledge of the payments to Cohen, but then shifted his explanation after Cohen pleaded guilty, saying the payments did not violate the law because they "didn't come out of the campaign."
Then in December, Trump said he "never directed Michael Cohen to break the law" while repeating his assertion that Cohen's actions in the hush money scheme were not illegal.
[The Hill]