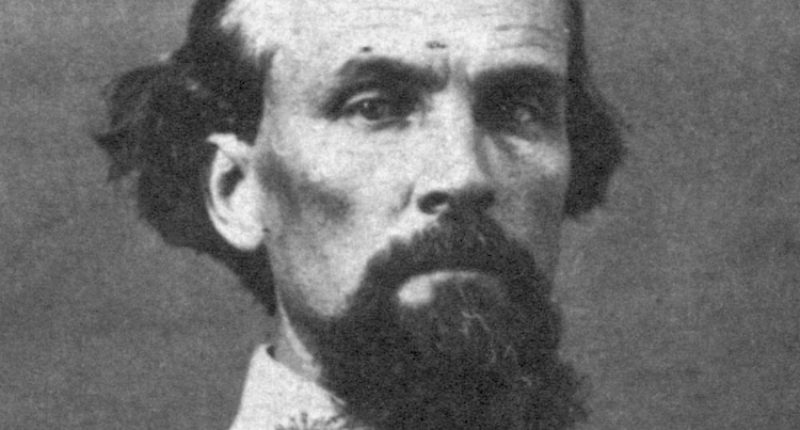 A senior Veterans Affairs official displayed a portrait of Confederate general and KKK grand wizard Nathan Bedford Forrest prominently in his taxpayer-funded office — and claimed he didn't know about the figure's sordid past.
The Washington Post reported that David J. Thomas Sr., the deputy executive director of VA's Office of Small and Disadvantaged Business Utilization, had the portrait hanging with a spotlight on it in his office until he was informed of Forrest's history.
"It was just a beautiful print that I had purchased, and I thought it was very nice," Thomas said, noting that he thought of Forrest "as a southern general in the Civil War" and nothing more.
He claimed that the portrait titled "No Surrender" had been languishing in his basement until he moved to a larger office a few months ago. Michelle Gardner-Ince, a manager who reports to the deputy executive director, disputed his account and said it was in his previous office since at least 2015.
"Racial tensions have flared between Thomas and several of his employees, at least three of whom have pending claims of racial discrimination against him," the report noted. "An attorney representing two of these employees said the portrait is evidence that Thomas is not comfortable around African Americans."
Gardner-Ince, a program manager who has a pending case against Thomas before the Equal Employment Opportunity Commission, was the person directed to install the spotlight onto the portrait.
None of the employees with pending cases against Thomas recognized the significance of the Forrest portrait until last week, the report noted, when a union steward recognized the first Ku Klux Klan grand wizard depicted in it and was "aghast."
The local VA chapter of the American Federation of Government Employees has since circulated a petition demanding the portrait's removal to present to Secretary Robert Wilkie. Although it was taken down, AFGE Local 17 president Douglas Massey told the Post that Thomas' claim to not know about Forrest's history was "hard to believe."
The report also noted that nine of the 14 managers who report to Thomas are black.