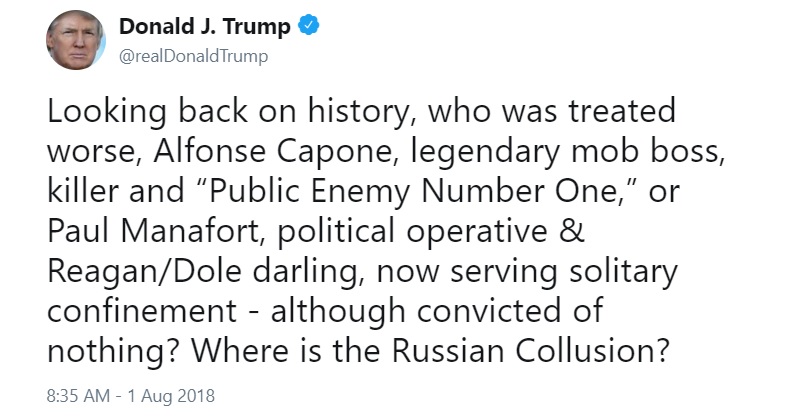 President Trump deployed quite the metaphor for the first trial in Special Counsel Robert Mueller's Russia probe.
Paul Manafort, Trump's former campaign chair whose trial for tax and bank fraud began Tuesday, is being treated worse than infamous mobster Al Capone, the president declared. Scratch that — "Alfonse Capone."
Looking back on history, who was treated worse, Alfonse Capone, legendary mob boss, killer and "Public Enemy Number One," or Paul Manafort, political operative & Reagan/Dole darling, now serving solitary confinement – although convicted of nothing? Where is the Russian Collusion?

— Donald J. Trump (@realDonaldTrump) August 1, 2018
"Alfonse" is presumably the knockoff cousin of Alphonse "Al" Capone, Chicago's murdering gangster eventually taken down for tax evasion. Manafort is similarly charged with hiding millions of dollars from the IRS, which is probably not the comparison Trump was hoping to draw.
[The Week]
Reality
Manafort is not "serving" his sentence yet. He violated the terms of his bail by attempting to influence witnesses and publish while under a gag order. He *earned* his jail confinement.