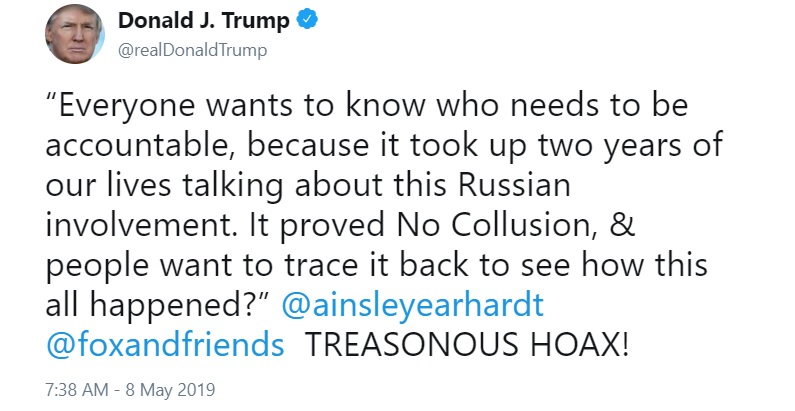 A Fox & Friends segment in the 7 a.m. ET hour drew President Donald Trump's ire on Tuesday — one focused in on what Fox's Ainsley Earhardt termed "this Russia involvement" in the 2016 election.
In a pair of tweets, the President — chiming in three-and-a-half hours after the original segment aired — quoted Earhardt and Brian Kilmeade…and then added his own editorial commentary.
"Everyone wants to know who needs to be held accountable for this,' Earhardt said. "Because it took up two years of our lives, basically, talking about Russia involvement. It proved no collusion. And people want to trace it back to find out how this all happened — how the investigation happened — and how Carter Pageended up being surveilled."
After the quote, Trump weighed in by writing, "TREASONOUS HOAX!"
The President took some liberties and paraphrased the subsequent comment from Brian Kilmeade.
"And why Christopher Steele was so determined to get this information out before the election," Kilmeade said. "This British spy!"
Notably, Trump added: "(this fake dossier."
[Mediaite]