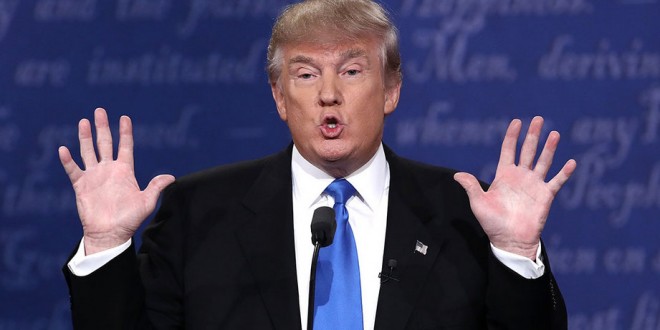 Part of Donald Trump's persona is that he "wins all the time." So what happens when he objectively loses in the first presidential debate in virtually every scientific poll by a far more prepared opponent? Apparently Trump goes into full denial and finds every online poll that supports the outcome he desired and it doesn't help that pro-Trump media like Fox News joins him.
However there are a couple of problems with using online polls for gauging election results. First, they are not restricted to likely voters, so an 8-year old who is not of age can cast their vote. Scientific polls look for sample demographics that are in-line with the national population, online polls do not. Also, most online polls do little to prevent duplicate votes. For example, you can vote on a laptop, then a phone, then an iPad. You can also open the poll and vote in different browsers, such as Internet Explorer, Firefox, Chrome, and Safari. If you turn on a browser's "privacy mode" then browser cookies are disabled, which are used to track your activity on a website, and this opens up to hacking using automated programs called "bots" which can continuously cast votes.
On top of the issues with online polling, each online poll Trump cited is either faked, didn't exist, or was the victim of a coordinated hacking attack.
For example, the morning after the debate Trump called into Fox and Friends and claimed:
"I won Slate," Trump insisted on Fox & Friends Tuesday morning. "I won Drudge in almost 90% of the vote in the poll, I won Time Magazine. I won CBS. I won every single poll other than CNN."
Trump also made the same claim at his event in Miami, Florida the same day. The reason why this is so strange is that CBS never held an online poll, they did however conduct a focus group of undecided voters, and Clinton came out ahead.
Later, Trump tweeted out an image of 11 online surveys which he felt backed up his claims.
Such a great honor. Final debate polls are in – and the MOVEMENT wins!#AmericaFirst #MAGA #ImWithYouhttps://t.co/3KWOl2ibaW pic.twitter.com/sfCEE3I5pF

— Donald J. Trump (@realDonaldTrump) September 27, 2016
Again, outside of the inherent problems with online polling, some of the numbers did not even match up. The white supremacist site Breitbart.com held a more scientific poll which had Clinton winning at 48% to Trump's 43%, a far cry from Trump winning at 75% as he claims.
But most important, every single one of these polls were the victim of a coordinated attack by hackers on 4chan, who used automated bots to vote multiple times and skew the results.
In the end, even Fox News had to remind employees that unscientific online polls "do not meet our editorial standards," and had to go so far as to reprimand Trump spokesperson Sean Hannity for continuously using online polls to justify his belief that Trump won.
Even so, Sean Hannity still continues to push these online polls on his show in defiance of ethics and standards.