Abolish the EPA
Donald Trump wants to abolish Environmental Protection Agency and leave environmental regulation to the states.
Summary
About the Plan
Donald Trump has yet to release an actual detailed plan about the environment. Most of his policy positions are gathered from random quotes at stump speeches or debates. It is very clear that Trump is not a fan of the Environmental Protection Agency.
On this exchange with Fox News' Chris Wallace in October 2015, Trump said:
"Environmental Protection, what they do is a disgrace. Every week they come out with new regulations. They're making it impossible —"

Wallace interjected, "Who's going to protect the environment?"

"They — we'll be fine with the environment," Trump replied. "We can leave a little bit, but you can't destroy businesses."
In an interview with the Wall Street Journal in January 2016 he painted the EPA in a bad light saying:
"The Environmental Protection Agency is the laughingstock of the world."
Trump's logic is that by abolishing the Environmental Protection Agency and leaving protecting the environment up to the states it will unshackle businesses, which will spur economic growth, and will cut the deficit.
Reality
Given that many environmental problems cross state lines, it's not clear how Trump thinks leaving protecting the environment up to the states would practically work.
There is a very well documented history why then-President Richard Nixon created the Environmental Protection Agency and why it exists today, which is to prevent billionaire businessmen, like Donald Trump, from choosing profits over public health.
Do you like mercury in your drinking water? What about putting lead back into house paint? How about returning Los Angeles and other major cities to a smog cities? Interested in a job to mine coal deep underground and die young of black lung disease? If you answered no to any or all of them, congratulations you support the EPA!
Keeping this in mind, realize that defunding or declawing the Environmental Protection Agency is not just a Donald Trump stance but a policy of the entire Republican Party. A few examples are:
The fact remains that whatever up-front cost we put into enacting environmental regulations pays massive dividends later in health savings and other benefits to the economy. An Office of Budge and Management study found that a decade's worth of major federal rules had produced annual benefits to the U.S. economy of between $193 billion and $800 billion and impose aggregate costs of $57 billion to $84 billion.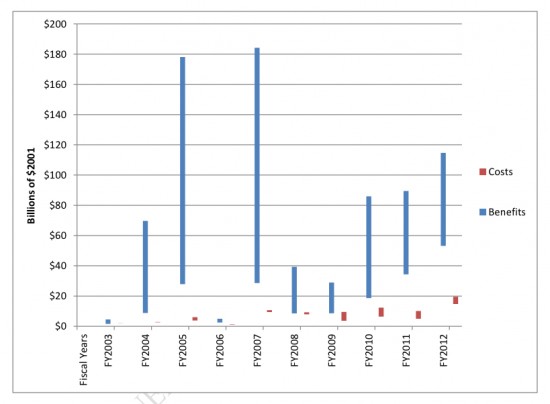 Trump was even confronted by lack of economic impact of his plan in the March Fox News debate by Chris Wallace:
"The Education Department you talk about cutting. The total budget for the Education Department is $78 billion. And that includes Pell grants for low income students and aid to states for special education. I assume you wouldn't cut those things. The entire budget for the E.P.A., the environmental protection agency, $8 billion," he said.

"OK," Trump replied.

"The deficit this year is $544 billion. That's more than a half trillion dollars. Your numbers don't add up, sir," Wallace said.
If It Doesn't Help The Economy, Then Who Does It Help?
To quote "All The President's Men", follow the money:
Energy companies happen to be the largest environmental polluters, have known about the effects of man-made climate change for decades, and engaged in a massive misinformation campaign using the same public relations firms and tactics the tobacco corporations used to misinform the public on the link between smoking and cancer.
Energy companies are one of the largest special interest groups who donate almost exclusively to the Republican party.
Republicans deny climate change and want to abolish the Environmental Protection Agency, policies that directly benefit energy companies.
While the "outsider" candidates like Donald Trump are riding a wave of popularity because of the lack of donations from special interest groups, Trump is still himself very pro-business. So it should come to no surprise then that the pro-business Republicans (versus the pro-labor Democrats) are more interested in removing any and all regulations that may cut into the bottom line of their donors (or their own corporations) at the expense of the health of you, your family, and your friends.
Another angle to consider is the removal of the Environmental Protection Agency would be a benefit to the Trump Organization, and thus benefit Donald Trump himself. As a developer he has to always consider regulations by the Environmental Protection Agency, for example endangered species protections could potentially halt or completely end a project of his. Trump has actually had a few run-ins with environmental regulations in the past. Some examples of violations by Donald Trump include:
Cost
There are no studies that we could find to reference the cost or savings of abolishing the EPA, so consider this a back of the napkin number.
Adjusting for inflation, by abolishing the Environmental Protection Agency, Trump's plan will save between $88.52 billion and $134.06 billion over 10 years. However with the regulations removed the benefits to the economy will no longer exist adding to the deficit between $309.75 billion and $1,232.89 billion over 10 years.
Trump's plan would cost the economy between $175.69 billion to $1,098.83 billion.
Links
http://corp-research.org/trump-organization