Trump Campaign Demands CNN Retract, Apologize for Poll Showing Joe Biden Leading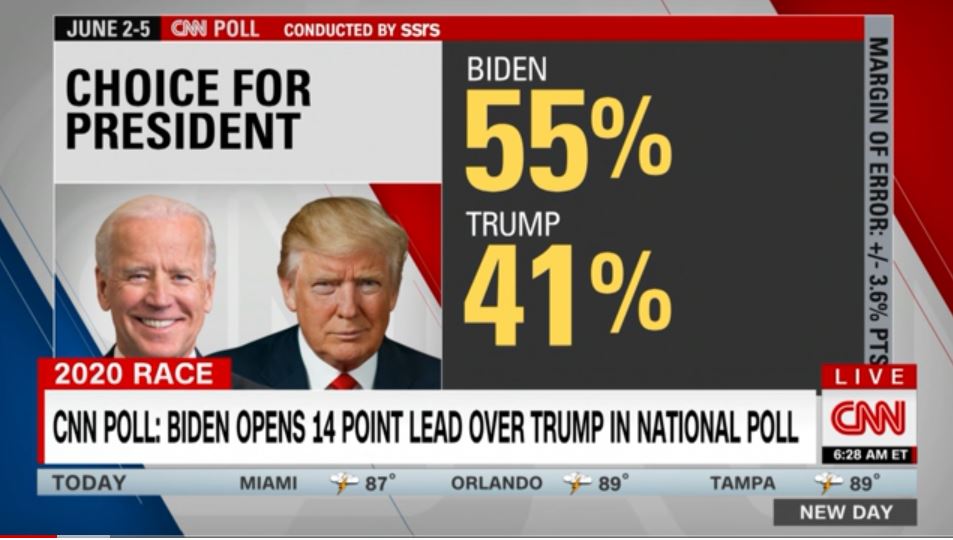 President Donald Trump's reelection campaign demanded that CNN retract and apologize for a poll that showed Democratic candidate Joe Biden leading by 14 points. The campaign sent a cease and desist letter to CNN President Jeff Zucker Wednesday. The network immediately rejected the president's demand. "We stand by our poll," CNN spokesman Matt Dornic said.
In addition to showing Biden with a lead of 55 percent to 41 percent over Trump, the poll found the president's approval rating to be 38 percent, the lowest it has been since January 2019, and his disapproval rating to be 57 percent. Trump tweeted Monday that he had hired Republican pollster McLaughlin & Associates to "analyze" the CNN poll, which he called fake. McLaughlin is regarded one of the least accurate pollsters.
Update
CNN on Wednesday dismissed a demand from the Trump 2020 campaign that it withdraw a poll as "factually and legally baseless" and the type of threat that has "typically come from countries like Venezuela."