Trump pushes back on Vanity Fair report he's 'melting down' over coronavirus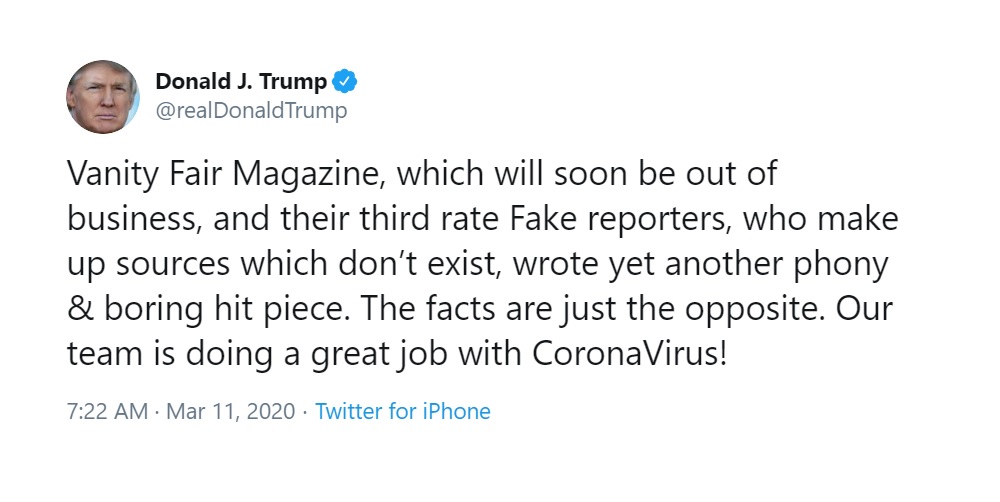 President Trump pushed back on a Vanity Fair article Wednesday that reported he is "melting down" over the coronavirus.
The article, published Monday, cites a person close to the administration saying Trump is "definitely melting down over this," referring to the coronavirus outbreak.
Trump hit back, saying that the magazine "will soon be out of business," and claiming "their third rate Fake reporters, who make up sources which don't exist, wrote yet another phony & boring hit piece."
"The facts are just the opposite," the president tweeted. "Our team is doing a great job with CoronaVirus!"
The article, written by Vanity Fair's Gabriel Sherman, says the source close to the administration said the president is afraid journalists are trying to get coronavirus to infect him on Air Force One. The president also asked the Secret Service to set up a program and ban anyone who has a cough on the White House grounds, according to the story.
White House press secretary Stephanie Grisham called the article "100% fake news" on Monday, the day it was published.
"@gabrielsherman did not reach out to me," she said. "False & sensational writing on this topic is irresponsible. POTUS has spent plenty of time w the press pool – simply ask ur colleagues. Nothing about your little college essay is funny or true & I want a retraction."
Trump has praised the government's efforts to contain the virus and send out tests. The president decided against taking a test for the virus after his physician said he didn't it wasn't necessary.
"I don't think it's a big deal. I would do it. I don't feel any reason. I feel extremely good. I feel very good, but I guess it's not a big deal to get tested and it's something I would do," Trump told reporters Tuesday.
[The Hill]