Trump Encourages New 'Activist' AT&T Investor to Stop 'Fake News Emanating' From CNN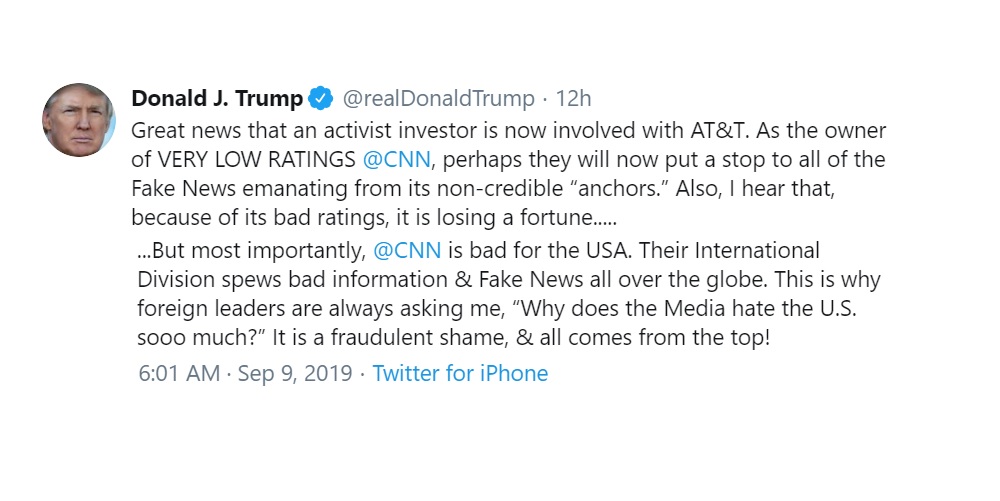 President Donald Trump lauded the news that an activist hedge fund has a multi-billion dollar stake in AT&T — and called for them to "put a stop to all of the Fake News" presented by CNN and its anchors.
In a pair of — at best, ethically questionable — tweets Monday morning, the president raged against CNN, following news of Elliott Management disclosing a $3.2 billion stake in communications giant AT&T, which owns CNN.
"Great news that an activist investor is now involved with AT&T," Trump wrote. "As the owner of VERY LOW RATINGS @CNN, perhaps they will now put a stop to all of the Fake News emanating from its non-credible "anchors." Also, I hear that, because of its bad ratings, it is losing a fortune … But most importantly, @CNN is bad for the USA. Their International Division spews bad information & Fake News all over the globe. This is why foreign leaders are always asking me, "Why does the Media hate the U.S. sooo much?" It is a fraudulent shame, & all comes from the top!"
As flagged by Matthew Gertz of Media Matters, Mornings With Maria on Fox Business covered the AT&T news approximately 30 minutes before Trump's tweet.
Further, as noted by Maggie Haberman of The New York Times, Trump's tweet coincided with a CNN report on how a spy was pulled out of Russia in 2017 over fears of the president handling classified intelligence.

CNN VP of communications Matt Dornic has responded, via Twitter — touting the network's most recent monthly Nielsen numbers, which were bolstered by two mammoth ratings nights for the Democratic presidential debates:
[Mediaite]