No evidence of Trump receiving Michigan "Man of the Year" Award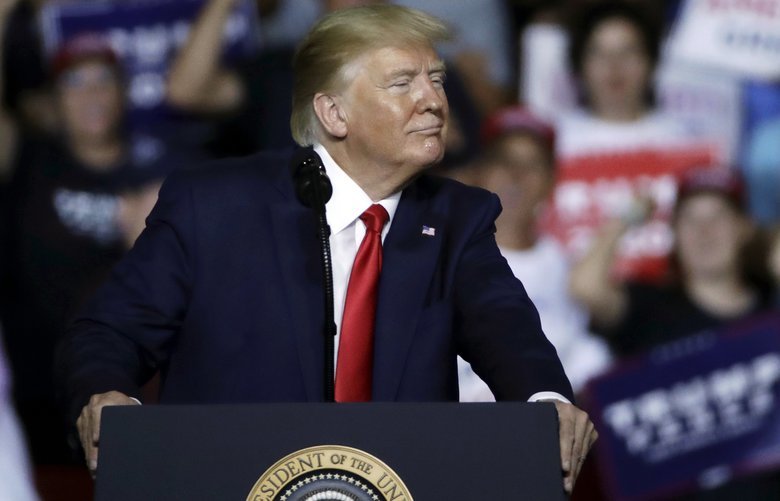 At a campaign rally in New Hampshire on Thursday, President Donald Trump made a handful of false claims, including returning to a claim he's made since the final days of the 2016 campaign.
He said he was once named Michigan's "Man of the Year."
Sounds impressive, but there is a significant problem here.
Facts First:Nobody has been able to find any evidence of Trump receiving such an award.
It is hard to definitively prove that something vague has not happened. So we'll leave open the possibility that Trump is talking about some actual event and that he and his team are just being coy about the details.
But neither we nor anyone else has been able to find a single detail. CNN has reached out to the White House and the Trump campaign about the claim, but has not heard back.
What Trump has said
Trump first publicly uttered the claim on November 6, 2016, two days before the election, when he was making his successful last-ditch effort to win Michigan.
"I've been fighting for the car industry for years. I was honored five years ago. Man of the Year in Michigan. That was a great honor for me," he said at a rally in Sterling Heights, Michigan.
He then described a supposed controversy over his supposed Man of the Year acceptance speech.
"During my speech, all I talked about is what Mexico and these other countries are doing to us. And especially what they're doing to Michigan," he said. "That's all I talked about. And I was criticized. They said, 'Donald, speak about something else.' I said, 'No. What's happening is horrible."
Trump has repeated versions of the claim at least six times since, including at a roundtable with corporate leaders in Michigan in 2017 and a rally in Wisconsin this April.
At the New Hampshire rally on Thursday, he seemed to acknowledge it sounded odd that a non-resident of Michigan would win such an award.
"In fact, five or six years before I even thought about running, for whatever reason they named me Man of the Year in Michigan. I said, 'How come?' I didn't even understand it myself,'" he said. "When I was named Man of the Year, I wasn't even political. That was years before I did this. But I was always complaining that our car business is being stolen."
No evidence at all
Trump's boast immediately piqued our interest. So, back in November 2016, we contacted the Trump campaign, dove into news archives and did a bunch of Googling.
The Trump campaign never responded. None of the searches brought up anything.
HuffPost went on a similar research journey and also found nothing. The website reported that the Michigan Chamber of Commerce said it didn't give out an award like that; Trump was never on the Detroit News's annual "Michiganians of the Year" list; then-Gov. Rick Snyder's office was reportedly no help; Trump had never mentioned the alleged honor on his Twitter feed.
Trump has received some "Man of the Year" kinds of accolades, including Time magazine's 2016 Person of the Year and the Statesman of the Year" award from the Republican Party of Sarasota County, Florida.
But none of the awards were for being Michigan's top man.
Former congressman sheds some light
After the original version of this article was published on Friday, former Republican congressman Dave Trott told CNN that Trump had claimed at the 2017 roundtable that he had been given the Man of the Year award at a 2013 event where Trott had invited him to speak.
The event was a Lincoln Day dinner Trott had chaired in Oakland County, Michigan. Trott, who represented Michigan's 11th District from 2015 to January 2019, said Trump's speech was well-received, but there was no award.
The transcript of the 2017 roundtable shows that, after Trump spoke of the 2013 speech and thanked Trott — somewhat vaguely, but seemingly over the supposed award — Trott simply responded, "Great speech."
Trott said Friday that, as a congressman, "I wasn't going to correct the president in front of the automotive executives."
"But now that I'm out of Congress, I feel comfortable correcting the story," he said.
Trott did not seek reelection in 2018. He has said (including in an interview on Friday) that his concerns about Trump were a factor in his decision.
[CNN]