Trump Again Lashes Out at Fox News for Not Sufficiently Adoring Him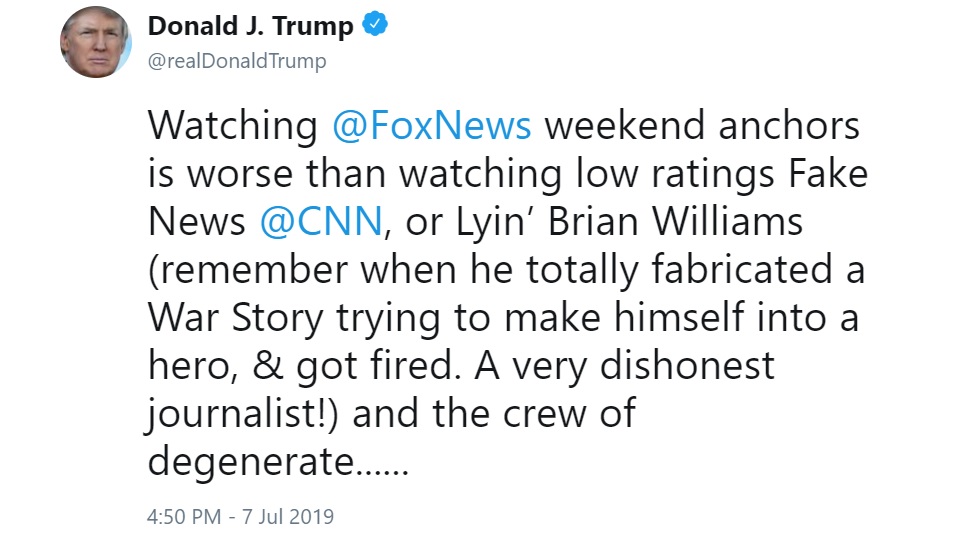 Donald Trump's growing annoyance at his favorite news network was on display once again Sunday night, when he ripped Fox News for failing to lavish him with sufficient praise.
The tirade began early Sunday evening with tweets targetting the network's "weekend anchors." Watching them, Trump wrote, is worse than watching the "Trump haters" on CNN and MSNBC. He also took a swipe at the New York Times before concluding that "@FoxNews is changing fast, but they forgot the people who got them there!" That's his way of saying he's responsible for the network's success and they should thank him with fawning coverage.
The reason for Trump's outburst isn't clear. Maybe he saw soccer fans chanting "fuck Trump" during a Fox News live shot earlier Sunday. Maybe he didn't like seeing Democratic candidate Michael Bennet on Fox News Sunday. Maybe, as Media Matters's Matthew Gertz suggested, Trump was inspired by the network twice citing a New York Times report about abhorrent conditions in an immigration detention center.
More difficult to explain are the tweets that came later in the evening. Trump went after Shepard Smith, his most vocal critic on Fox News, and Donna Brazile, the former chair of the Democratic National Committee, who recently joined the network. As Gertz pointed out though, Brazile hasn't been on Fox for a week.
All of this comes as Trump is being courted by a right-wing TV network that promises to be more sycophantic than Fox News ever was. One America News has been called the "Ultimate 'Pro-Trump' Network" and Trump has reportedly been tuning into the network more than ever. But apparently not this weekend.