Trump says Kim has 'kept his word' hours after Bolton said he hasn't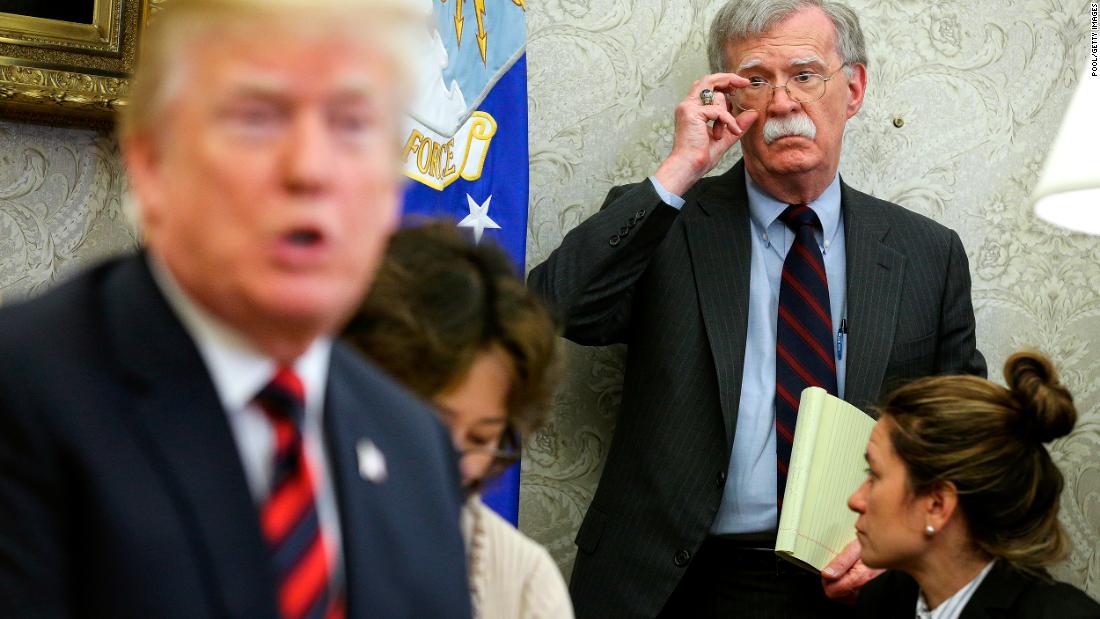 President Donald Trump said Tuesday that North Korean leader Kim Jong Un has "kept his word" when it comes to nuclear and missile testing, contradicting his own national security adviser, John Bolton, who just hours earlier had accused Pyongyang of failing to follow through on its commitments.
Speaking to reporters on the South Lawn of the White House, Trump said he had received a warm letter from Kim before again downplaying North Korea's latest test of a short-range ballistic missile — a move Bolton and acting Secretary of Defense Patrick Shanahan have said violated UN resolutions.
"He kept his word. There's no nuclear testing. There's no large, there's no long-range missiles going up. The only things he's set up were very short term, short range. That was just a test of short range. It's a whole different deal, but he's kept his word to me. That's very important," the President said.
Earlier Tuesday, Bolton had told the Wall Street Journal at a speaking event in Washington that North Korea is not complying with the terms agreed upon during Trump's first summit with Kim, in Singapore last year.
"What they've said was that they're not going to test ballistic missiles, intercontinental range ballistic missiles, or have nuclear tests. That's continued. They're doing a lot of other things that still indicate that they have not made a strategic decision to give up the pursuit of deliverable weapons, which is why we continue the maximum pressure campaign," Bolton said.
In May, Bolton said that "there is no doubt" the tests violated the UN resolutions, something Shanahan has also said publicly.
But that conclusion is at odds with Trump's own assertions.
"My people think it could have been a violation," Trump said in May. "I view it differently."
The President added that he thinks Kim could be a man "who wants to get attention," but said there are no nuclear tests or long-range missiles being fired, something he again pointed out Tuesday.
Trump claims remains 'keep coming back'
Trump also claimed Tuesday that the remains of US soldiers in North Korea "keep coming back," despite the US Defense POW/MIA Accounting Agency telling CNN in May that the effort was suspended due to a lack of communication from North Korean officials following the second summit between the two leaders, in Hanoi, Vietnam, earlier this year.
"We have a very good relationship together," Trump said of Kim. "Now I can confirm it because of the letter I got yesterday, and I think something will happen that's going to be very positive. But in the meantime, we have our hostages back, the remains keep coming back, we have a relationship."
The return of American remains was part of the US-North Korea agreement reached during Kim and Trump's Singapore summit.
Following the summit, North Korea handed over 55 cases of presumed remains of US service members killed during the 1950-53 Korean War.
"DPRK officials have not communicated with DPAA since the Hanoi summit," Chuck Prichard, a spokesman for the Defense POW/MIA Accounting Agency, said in May.
"As a result, our efforts to communicate with the Korean People's Army regarding the possible resumption of joint recovery operations for 2019 has been suspended," he added.
'I wouldn't let that happen'
Trump would not confirm reports that Kim Jong Un's half brother was a CIA asset Tuesday but said he would tell Kim that "would not happen under my auspice."
"I saw the information about the CIA with respect to his brother or half brother and I would tell him that would not happen under my auspice, that's for sure. I wouldn't let that happen under my auspices," he said when asked about details published by the Wall Street Journal.
The CIA operative claims are also described in a book by Washington Post reporter Anna Fifield published on Tuesday. "The Great Successor," about Kim Jong Un, details meetings between Kim Jong Nam and his handlers in the two countries. The CIA has declined to comment to CNN.
When asked if the CIA was wrong to use Kim's half-brother as an asset if it did indeed do so, Trump said: "I don't know anything about that. I know this, that the relationship is such that that wouldn't happen under my auspices, but I don't know about that. Nobody knows."
[CNN]