White House blocked State official's written testimony over climate references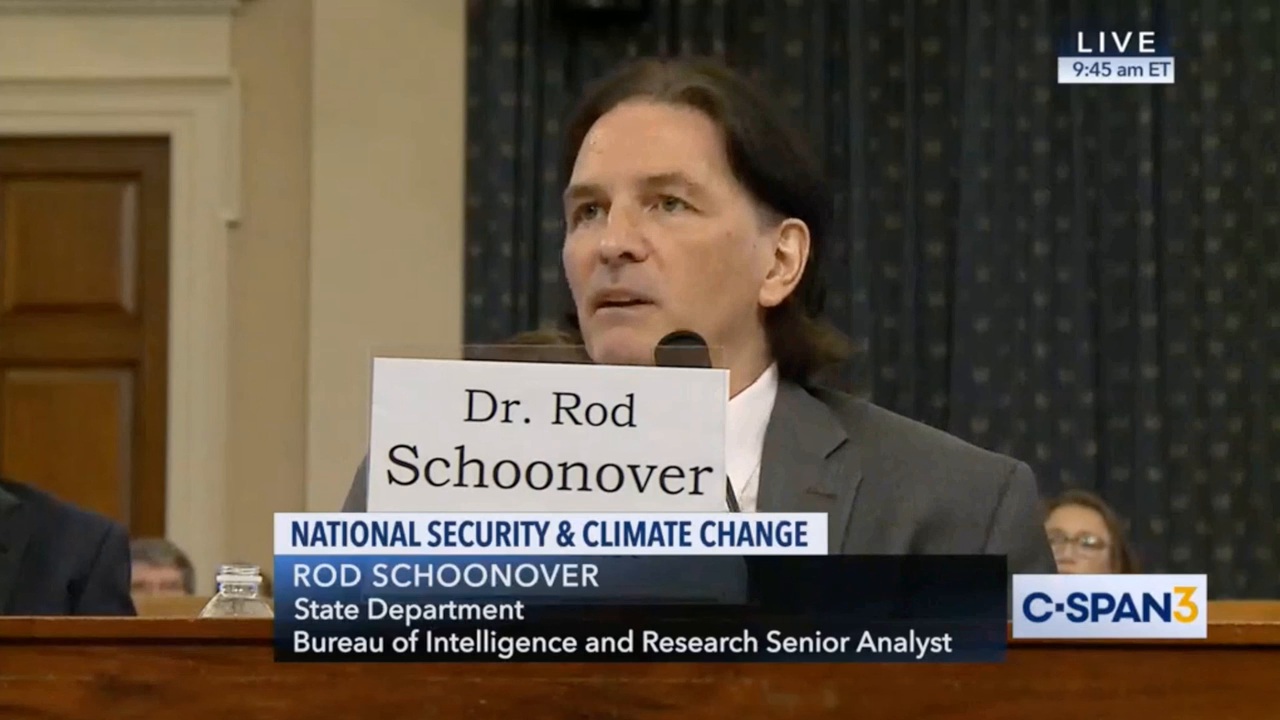 White House officials blocked a State Department intelligence agency from submitting written testimony warning Congress that human-caused climate change could be "possibly catastrophic," The Washington Post reported Friday.
The State Department's Bureau of Intelligence and Research prepared testimony for the House Intelligence Committee and declined to take out the document's mentions of scientific data on climate change.
Rod Schoonover, who works in the Office of the Geographer and Global Issues, was prepared to present his testimony in person during a Wednesday hearing, the newspaper reported.
Officials from the White House's Office of Legislative Affairs, Office of Management and Budget, and National Security Council all raised objections to his remarks, the Post reported.
They wished to cut several pages because the descriptions on climate science did not match the Trump administration's official stance, according to senior administration officials who spoke with the newspaper on the condition of anonymity.
Schoonover, a former professor of chemistry and biochemistry at California Polytechnic State University, was given permission to appear before the House panel but was not allowed to submit his office's statement for the record. He ultimately did not submit his testimony to the committee, an aide said.
White House officials reportedly objected to the document's scientific citations, which refer to work conducted by federal agencies including NASA and the National Oceanic and Atmospheric Administration.
The Hill has reached out to the White House for comment.
One Trump official said it did not "jibe" with the Trump White House's goals on climate change, a source told the Post.
The president has long cast doubt on the existence and effects of climate change, previously suggesting that climate change was a hoax invented by the Chinese.
He pulled the U.S. out of the international Paris climate accord in 2017 and downplayed a U.S. government report on the environment.
Just this week, Trump said he dismissed Prince Charles's concerns about the negative impact on climate change and insisted that weather "changes both ways."
"Don't forget: It used to be called 'global warming.' That wasn't working. Then it was called 'climate change.' Now it's actually called 'extreme weather' because with extreme weather you can't miss," Trump told British commentator Piers Morgan.
The Bureau of Intelligence and Research's 12-page prepared testimony, reviewed by The Washington Post, detailed how rising greenhouse gas emissions raise global temperatures and acidify oceans.
"Climate-linked events are disruptive to humans and societies when they harm people directly or substantially weaken the social, political, economic, environmental, or infrastructure systems that support people," the statement reads, noting that while some populations may benefit from climate change. "The balance of documented evidence to date suggests that net negative effects will overwhelm the positive benefits from climate change for most of the world, however."
[The Hill]