Donald Trump Celebrates Matt Lauer Firing On Twitter, Demands NBC News Be Investigated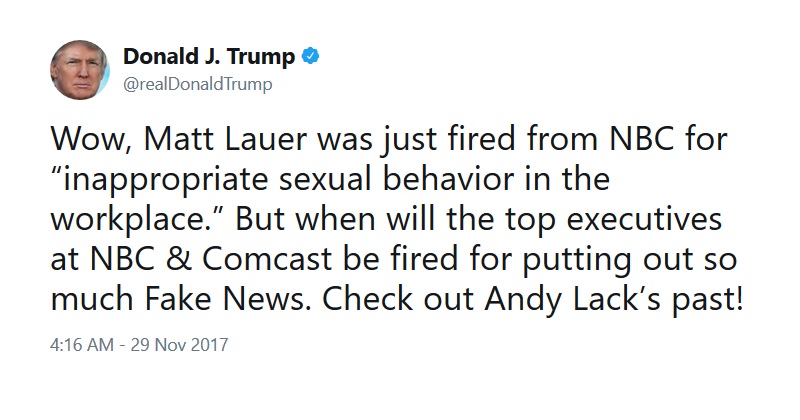 President Donald Trump took time out this morning from "taking care of" North Korea's Tuesday intercontinental ballistic missile launch, as he promised, cutting taxes for corporations, and killing Obamacare to tweet about NBC News' bombshell announcement it had fired longtime Today show anchor Matt Lauer.
"Wow, Matt Lauer was just fired from NBC for 'inappropriate sexual behavior in the workplace," tweeted Trump, who is now questioning the authenticity of NBCUniversal's Access Hollywood tape in which he got caught on a hot mic boasting he was so famous he could grab women "by the p*ssy," and for which he went on national television to acknowledge and apologize for. Trump, as a candidate, also vowed to sue the dozen women who came forward saying he sexually harassed and/or assaulted them.
In his morning tweet, the President of the United States said executives at NBC and at parent Comcast should be fired for "putting out so much Fake News, adding "check out Andy Lack's past!"
A couple hours later, Trump appeared to have remembered MSNBC is an operation of NBC News, and tweeted again, to ask if, now that Lauer is gone, the news operation will cancel "low rated Joe Scarborough" and fire MSNBC chief Phil Griffin.
"Investigate!" our country's commander-in-chief demanded.
CNN already has said it will not attend the White House Christmas Party on Friday, to which the press traditionally is invited, because it would be inappropriate for the cable news network to be the guest of a man who has so ferociously attacked the First Amendment and CNN individually. We will keep you posted as to whether NBC News follows suit.
Wow, Matt Lauer was just fired from NBC for "inappropriate sexual behavior in the workplace." But when will the top executives at NBC & Comcast be fired for putting out so much Fake News. Check out Andy Lack's past!

— Donald J. Trump (@realDonaldTrump) November 29, 2017
So now that Matt Lauer is gone when will the Fake News practitioners at NBC be terminating the contract of Phil Griffin? And will they terminate low ratings Joe Scarborough based on the "unsolved mystery" that took place in Florida years ago? Investigate!

— Donald J. Trump (@realDonaldTrump) November 29, 2017
[Deadline]