Trump Urges Voters to Pick Roy Moore Instead of 'Liberal Jones'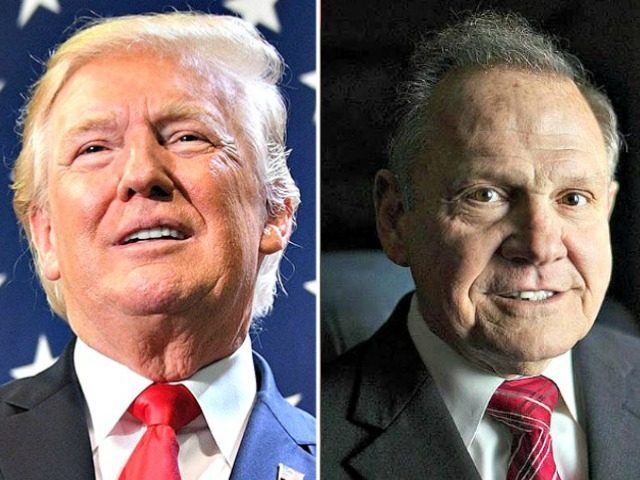 With a little more than two weeks until a special election for the Senate in Alabama, President Trump on Sunday doubled down on his criticism of the Democratic nominee, Doug Jones, and reiterated his support for Roy S. Moore, the Republican candidate, who has been accused of sexual misconduct by a number of women.
"The last thing we need in Alabama and the U.S. Senate is a Schumer/Pelosi puppet who is WEAK on Crime, WEAK on the Border, Bad for our Military and our great Vets, Bad for our 2nd Amendment, AND WANTS TO RAISES TAXES TO THE SKY," Mr. Trump tweeted on Sunday morning.
"Liberal Jones would be BAD!" he tweeted less than an hour later.
In response, the Jones campaign said Mr. Jones's record as a prosecutor "speaks for itself."
"Roy Moore was unfit for office before nine Alabama women served as witnesses to all Alabamians of his disturbing conduct," Sebastian Kitchen, Mr. Jones's spokesman, wrote in an email. "Doug Jones is continuing to focus on finding common ground and getting things done for real Alabamians."
During the Alabama Republican primary, Mr. Trump endorsed Senator Luther Strange on Twitter, then deleted some of those tweets after Mr. Strange lost the runoff in September.
On Sunday, the president claimed that after he had supported Mr. Strange, the candidate "shot way up in the polls" — a claim he also made in September — but "it wasn't enough."
It has been widely reported that Mr. Strange did not advance in the polls after Mr. Trump's endorsement.
The latest poll numbers indicate that Mr. Moore is in a tight race. Alabama historically votes Republican but the allegations against Mr. Moore have taken a toll.
Most of the women who have accused him of sexual misconduct said it occurred when they were teenagers and Mr. Moore was in his 30s. He has denied the allegations.
"I don't remember ever dating any girl without the permission of her mother," Mr. Moore told the Fox News host Sean Hannity.
High-ranking Republicans have not been convinced.
"I believe the women," Senator Mitch McConnell of Kentucky, the majority leader, has said.
Mr. Trump, however, has remained skeptical.
"Forty years is a long time. He's run eight races, and this has never come up," Mr. Trump said on Tuesday. "He says it didn't happen."