After border agent is killed and partner injured in Texas, Trump renews call for wall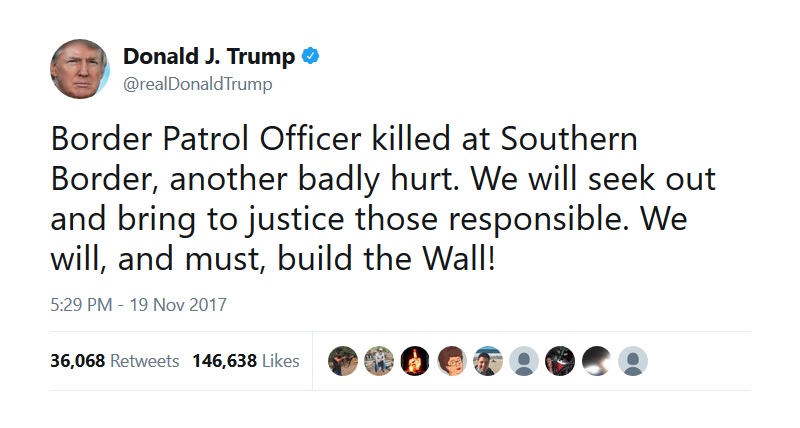 Authorities were searching southwest Texas for suspects or witnesses after a U.S. Border Patrol agent was killed and his partner injured Sunday while on patrol in the state's Big Bend area, officials said.
Agent Rogelio Martinez and his partner were "responding to activity" near Interstate 10 in Van Horn, Tex., when both were seriously injured, according to a Customs and Border Protection news release.
Martinez's partner called for help. Other agents arrived, provided medical care and took them to a hospital.
Martinez died of his injuries; his partner, who was not identified, remained in the hospital in serious condition, officials said.
Martinez, a 36-year-old from El Paso, had been a border agent since August 2013.
Jeannette Harper of the FBI's El Paso field office told the San Antonio Express-News that authorities were still gathering evidence. She said reports that the agents were shot were not true, but that a full account of what happened wouldn't be released until Monday.
"They were not fired upon," Harper said.
A Customs and Border Protection spokesman declined to offer any further details about what happened.
But a National Border Patrol Council labor union official said Martinez may have been killed in a rock attack.
Art Del Cueto, the union's vice president, said he has heard from other Border Patrol agents that Martinez and his partner were believed to be responding to an electronic sensor that had been activated.
Del Cueto said he was told that Martinez and his partner apparently did not sustain bullet or stab wounds — so he suspects the pair may have been attacked with rocks, which are commonly thrown at agents working in that area.
"It's heartbreaking; it's truly heartbreaking," he told The Washington Post on Monday in a phone interview.
President Trump appeared to connect Martinez's death to border security and plugged his plans for a border wall Sunday night on Twitter.
Border Patrol Officer killed at Southern Border, another badly hurt. We will seek out and bring to justice those responsible. We will, and must, build the Wall!

— Donald J. Trump (@realDonaldTrump) November 20, 2017
Sen. Ted Cruz (R-Tex.) said, without explanation, that Martinez and his partner were "attacked" and also linked the incident to security on the border with Mexico.
"This is a stark reminder of the ongoing threat that an unsecure border poses to the safety of our communities and those charged with defending them," Cruz tweeted. "I remain fully committed to working with the Border Patrol to provide them with all the resources they need to safeguard our nation."
Texas Gov. Greg Abbott (R) offered his condolences to the victims' families.
"Our prayers are with the families of this Border Patrol Agent who was killed & the other who was injured in this attack in Texas," he wrote on Twitter. "Our resources must be increased to prevent these attacks in the future."
The FBI in El Paso is leading an investigation into the incident, along with the Culberson County Sheriff's Department and Customs and Border Protection's Office of Professional Responsibility.
The acting secretary of homeland security, Elaine Duke, said in a statement that she learned of Martinez's death Sunday morning, and offered her agency's full support to "determine the cause of this tragic event."
"On behalf of the quarter of a million front line officers and agents of DHS, my thoughts and prayers go out to the family and friends of Agent Martinez and to the agent who is in serious condition," Duke said.
The area where the agents were injured is a dusty stretch of highway about 100 miles east of El Paso.
It is part of Customs and Border Protection's vast Big Bend Sector, which covers 135,000 square miles in Texas and Oklahoma and 510 miles of river border. The sector's Van Horn Station, near where Martinez died, covers 15 miles of the Mexico border.
The Big Bend Sector accounted for 1 percent of the roughly 61,000 apprehensions Border Patrol agents made along Texas's southwest border between fall 2016 and spring 2017, as the Associated Press reported.
Local media photos from the scene showed Border Patrol trucks and about a dozen other unmarked vehicles parked along the side of the road, and a group of law enforcement agents huddled together.
Thirty-eight Customs and Border Protection agents have died in the line of duty since 2003, according to the agency's memorial page.
Before Martinez, the only other agent to die in 2017 was Isaac Morales, who was stabbed in a bar parking lot in El Paso. Three agents died in 2016, two of them in car accidents, one of a heart attack while on bike patrol.
Reality
Trump had jumped to conclusions without available evidence, fanning the flames of racism by blaming Mexicans when we don't know what happened yet.
For example, in Culberson County, where the two officers were injured, the local sheriff painted a different picture, suggesting to the Dallas Morning News that investigators are considering the possibility that the agents fell into the culvert in a nighttime accident.
"The evidence is not obvious as to what happened out there," Sheriff Oscar Carrillo told the paper.