Trump's feud with Dem lawmaker over phone call stretches into fifth day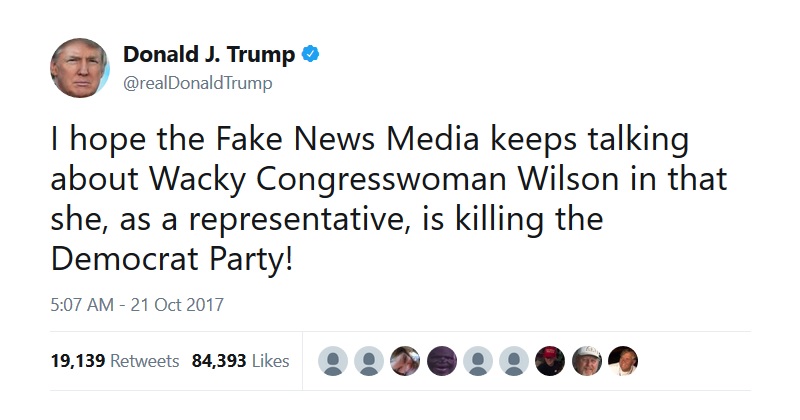 President Trump on Saturday referred to a Democratic congresswoman as "wacky" and said she "is killing the Democrat party."
His comments are the latest response to a controversy that Trump's Saturday morning tweet is now stretching into its fifth day.
Trump also offered faint praise to the "Fake News Media" for covering the story of his feud with Rep. Frederica Wilson (D-Fla.) over a phone call to a military family following the death of a soldier in Niger.
"I hope the Fake News Media keeps talking about Wacky Congresswoman Wilson in that she, as a representative, is killing the Democrat Party!" he tweeted.
I hope the Fake News Media keeps talking about Wacky Congresswoman Wilson in that she, as a representative, is killing the Democrat Party!

— Donald J. Trump (@realDonaldTrump) October 21, 2017
Wilson earlier this week described a Tuesday phone conversation between Trump and the widow of Army Sgt. La David Johnson, who was killed in Niger. Trump initially called Wilson "wacky" in a Thursday tweet, accusing her of lying about the content of the call after "secretly" listening in.
Wilson was in a car with the fallen soldier's family when Trump called, and the family confirmed her description of the call, which took place on speakerphone.
Wilson said the president told the widow her late husband "knew what he signed up for … but when it happens it hurts anyway." Johnson's mother told The Washington Post that the president disrespected the family with his call.
The White House later appeared to confirm what Trump said during the call but has accused Wilson of politicizing a "sacred" issue.
"It stuns me that a member of Congress would have listened in on that conversation. Absolutely stuns me. I would have thought that was sacred," White House chief of staff John Kelly said Thursday.
He went on to slam the Florida lawmaker for taking credit for securing "$20 million" in funding for a FBI field office in Miami in 2015, saying it demonstrated her true nature.
"A congresswoman stood up, and in a long tradition of empty barrels making the most noise, stood up there in all of that and talked about how she was instrumental in getting the funding for that building, and how she took care of her constituents because she got the money, and she just called up President Obama, and on that phone call, he gave the money — the $20 million — to build the building, and she sat down, and we were stunned," Kelly said.
Wilson pushed back, calling Kelly's accusations "crazy" and said that the building "was funded long before I got to Congress."
The White House stood by Kelly's criticism despite newly released video showing he misrepresented her remarks.
"As Gen. Kelly pointed out, if you are able to make a sacred act like honoring American heroes all about yourself, you are an empty barrel," White House press secretary Sarah Huckabee Sanders said Friday.
"If you don't understand that reference, I'll put it a little more simply — as we say in the South, all hat no cattle," she added.
Wilson is known in Congress for her ornate hats.
"I feel very sorry for him because he feels such a need to lie on me and I'm not even his enemy," Wilson told The New York Times of Kelly on Friday. "I just can't even imagine why he would fabricate something like that. That is absolutely insane. I'm just flabbergasted because it's very easy to trace."
She has promised to keep pressing the administration for answers on what happened in Niger, which is now the subject of an investigation by the Pentagon and the FBI. Militants ambushed the U.S. soldiers in the incident, and questions linger about the quickness of the U.S. response.
"I will always speak up for my constituents…and the truth!" Wilson tweeted Friday night.
[The Hill]