Trump says NBA player Stephen Curry no longer invited to White House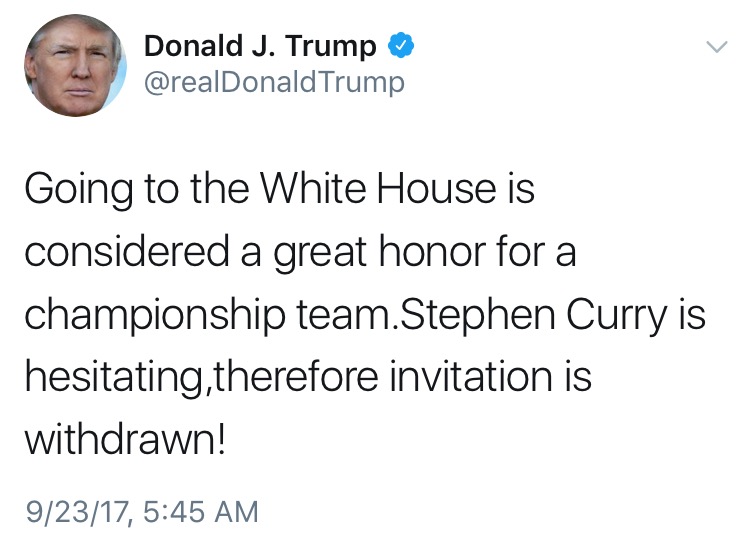 President Trump on Saturday said the "invitation is withdrawn" for Stephen Curry to visit the White House because the NBA All-Star "is hesitating."
"Going to the White House is considered a great honor for a championship team," he tweeted. "Stephen Curry is hesitating,therefore invitation is withdrawn!"
Golden State Warriors guard Curry said this week he didn't want the team to visit the White House to celebrate their NBA championship title.
"I don't want to go," Curry told reporters on Friday. He said in June he "probably" wouldn't go to the White House, and this week said he didn't think the team should go either.
Managers said they will discuss the decision as a team in an open forum. It was unclear whether the president would bar the entire team from the White House, or just Curry. A formal White House invitation has not been issued, but the NBA has been communicating with the White House about a visit, according to ESPN.
Curry said his reasons for not wanting to visit the White House were "that we basically don't stand for what our president has said, and the things he hasn't said at the right time," according to SF Gate.
"By not going, hopefully it will inspire some change for what we tolerate in this country and what we stand for, what is accepted and what we turn a blind eye toward," he said.
"It's not just the act of not going. There are things you have do on the back end to push that message into motion," he continued. "You can talk about all the different personalities that have said things and done things from [Colin] Kaepernick to what happened with Michael Bennett to all sorts of examples of what has gone on in our country that has led to change. We're all trying to do what we can, using our platforms, our opportunities, to shed light on it. I don't think not going to the White House will miraculously make everything better. But this is my opportunity to voice that."
Trump on Friday again spoke out against Kaepernick, an NFL player Trump has criticized multiple times in the past.
The president argued people should protest players that don't stand for the national anthem, as Kaepernick has done, by leaving games.
"When people like yourselves turn on television and you see those people taking the knee when they are playing our great national anthem – the only thing you could do better is if you see it, even if it's one player, leave the stadium," Trump said at a rally in Alabama. "I guarantee things will stop."
Fox News coverage of Curry's resistance could have motivated Trump's Saturday morning tweet. Trump is a known fan of Fox News coverage.
Fox & Friends, 20 minutes before Trump's tweet pic.twitter.com/vyGKjQtgxZ

— Stefan Becket (@becket) September 23, 2017
http://thehill.com/homenews/administration/352029-trump-withdraws-white-house-invitation-to-stephen-curry