Trump on Climate Change and Hurricanes: 'We've Had Bigger Storms'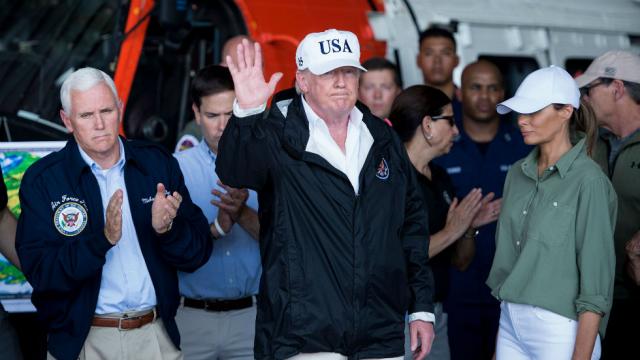 President Trump on Thursday dismissed the impact of climate change on Hurricanes Harvey and Irma, the two major storms to make landfall in the United States in the last month.
"We've had bigger storms," Trump told reporters on Air Force One, following a trip to Florida to assess the impact of Irma.
Trump later ignored a question about his views on climate change, according to reporters traveling with him.
The president's trip to Florida was the third he's taken to survey damage from Harvey and Irma, both of which were unusual it their strength and severity.
Harvey broke the record for rainfall from a tropical cyclone in the United States, dropping more than 50 inches of rain on parts of Texas and Louisiana late last month, leaving Houston inundated.
Irma, at its peak, packed sustained winds of 185 miles per hour, making it one of the five strongest storms to form in the Atlantic Ocean. It was a Category 5 hurricane for three days and three hours, the second-longest for any storm on record.
Climatologists have said that while climate change didn't cause the two monster storms, it likely exacerbated them and made them stronger.
Trump has said he doesn't accept the scientific consensus of climate change, calling it a "hoax" perpetrated by the Chinese to undermine the American economy.
[The Hill]