Trump Promised Not to Work With Foreign Entities, His Company Just Did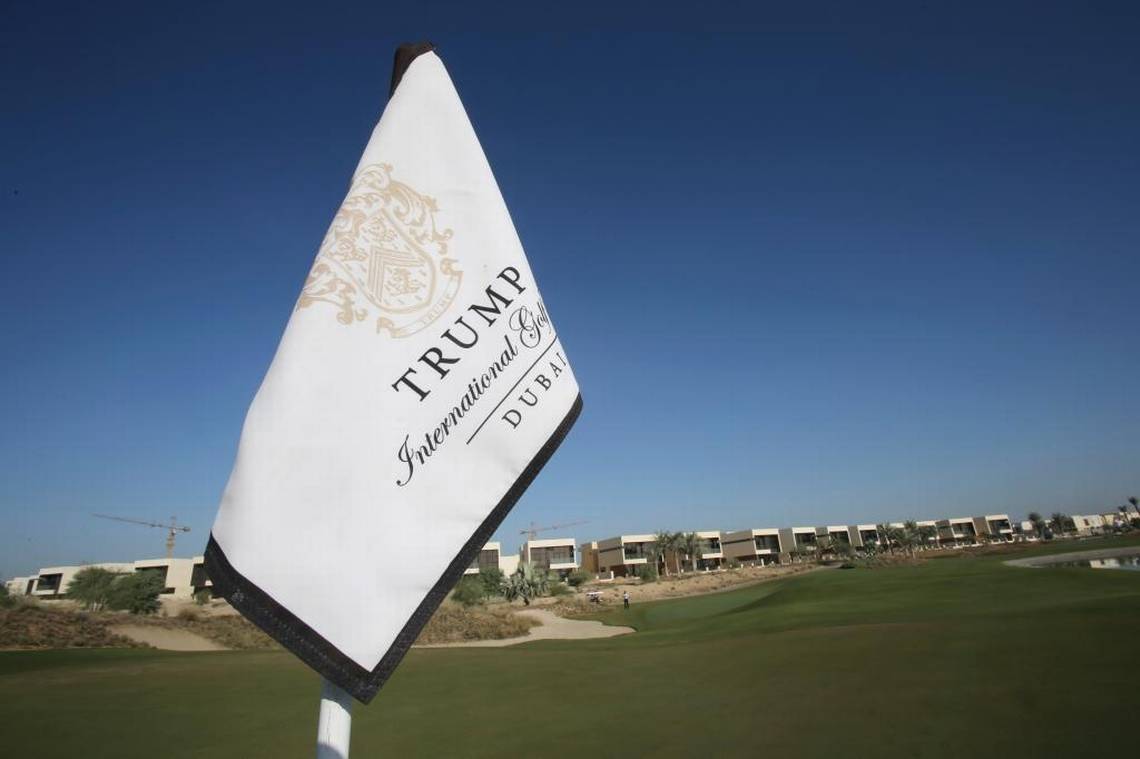 A major construction company owned by the Chinese government was hired to work on the latest Trump golf club development in Dubai despite a pledge from Donald Trump that his family business would not engage in any transactions with foreign government entities while he serves as president.
Trump's partner, DAMAC Properties, awarded a $32-million contract to the Middle East subsidiary of China State Construction Engineering Corporation to build a six-lane road as part of the residential piece of the Trump World Golf Club Dubai project called Akoya Oxygen, according to news releases released by both companies. It is scheduled to open next year.
The companies' statements do not detail the exact timing of the contract except to note it was sometime in the first two months of 2017, just as Trump was inaugurated and questions were raised about a slew of potential conflicts of interest between his presidency and his vast real estate empire.
The Chinese company, known as CSCEC, is majority government-owned — according to Bloomberg and Moody's, among others — an arrangement that generally encourages growth and drives out competition. It was listed as the 7th largest company in China and 37th worldwide with nearly $130 billion in revenues in 2014, according to Fortune's Global 500 list.
The company, which has had a presence in the United States since the mid-1980s, was one of several accused by the World Bank of corruption for its role in the bidding process for a roads project in the Philippines and banned in 2009 from World Bank-financed contracts for several years.
Meredith McGehee, chief of policy, programs and strategy at Issue One, which works to reduce the role of money in politics, said doing business with a foreign entity poses several potential problems for a president, including accusations that a foreign government is enriching him, gaining access to or building goodwill with him and becoming a factor in foreign policy.
The Trump Organization agreed to not engage in any new foreign deals or new transactions with a foreign entity — country, agency or official — other than "normal and customary arrangements" made before his election.
But Trump ignored calls to fully separate from his business interests when he became president. Instead, he placed his holdings in a trust designed to hold assets for his "exclusive benefit," which he can receive at any time. He retains the authority to revoke the trust.
McGehee said Trump clearly knew foreign arrangements could be problematic because he outlined a list of restrictions, although vague ones, for his company to follow while he served as president. But more importantly, she said, the writers of the U.S. Constitution knew they could be too.
The Emoluments Clause in the U.S. Constitution says officials may not accept gifts, titles of nobility or emoluments from foreign governments with respect to their office, and that no benefit should be derived by holding office.
"This is not just a concern of good government organizations," she said. "It was a fundamental concern of the founding fathers."
DAMAC & #Trump Organization are developing a 2nd Trump #golf course, Trump World Golf Club #Dubai, at AKOYA Oxygen! pic.twitter.com/HLCYGmiBKB

— Donald J. Trump (@realDonaldTrump) September 23, 2014
Trump pledged to donate profits from spending by foreign governments at his hotels to the U.S. Treasury, though he has been accused of violating the constitutional restriction and faces multiple lawsuits over the issue.
In some deals reviewed by McClatchy, the Trump Organization licenses its name and receives royalties from a project but does not have any input on who the developer hires. But in other cases, officials from the Trump Organization, including the Trump children, have taken a great interest in the development, walking the sites to check on progress.
An official with the Trump Organization, which is run by the president's adult sons, confirmed the company licensed its name and brand to DAMAC Properties and has entered into an agreement to manage the Dubai golf course.
The Chinese company was "appointed by DAMAC to undertake some infrastructure work and to build one of their hospitality developments" said the Trump Organization official who asked for anonymity. The official said the residential project and the golf course are "totally unrelated" despite marketing materials, including brochures, websites and news releases, showing them intricately tied together. DAMAC and CSCEC did not respond to messages about the development.
CSCEC appears in the Panama Papers, a massive data breach from law firm Mossack Fonseca whose publication last year lifted the veil on the secretive world of offshore companies, which can be used for legitimate business purposes but can also be used to evade taxes and launder money.
The documents show CSCEC had offshore companies listed in the Bahamas and in Panama, where it has projects. Mossack Fonseca subjected it to greater scrutiny, giving it Politically Exposed Person status, in part because of its state-owned status.
The company's contract is for work on the Trump World Golf Club Dubai project, which boasts of "living on a grand scale" with a golf course designed by famed American golfer Tiger Woods, thousands of sleek, modern villas, restaurants, shops, schools, nurseries and a lake. The development touts it will house Dubai's first tropical rainforest complete with waterfalls and tropical birds under a sky dome.
"This unparalleled development provides luxury living on a grand scale, with over 2,000 hotel apartments of varying size, all offering exceptional views of the development, the lake and the lush fairways of the Trump World Golf Club Dubai," according to a brochure. "The properties are fully furnished and our staff is available to you 24 hours a day, to ensure that you enjoy premium service on a par with the world's finest hotels."
In February, Eric Trump and Donald Trump Jr., attended a ceremony to open the first golf club in Dubai after their father spent years trying to break into the Middle East market.
Trump International Golf Club Dubai, part of a larger project built by a development giant DAMAC Properties on the outskirts of Dubai, includes more than 100 Trump-branded villas selling from $1 million to $4 million.
Hussain Sajwani, DAMAC's wealthy chairman, who has family members listed in the Panama papers, offered the Trump Organization $2 billion in deals following Trump's election, according to both sides. Trump said he rejected the offers to avoid conflicts of interest.
"Over the weekend, I was offered $2 billion to do a deal in Dubai with a very, very, very amazing man, a great, great developer from the Middle East," Trump said at a news conference in January. "And I turned it down. I didn't have to turn it down because as you know I have a no conflict situation because I'm president…But I don't want to take advantage of something."