Trump Goes Off-Script in Hour-Long Public Meltdown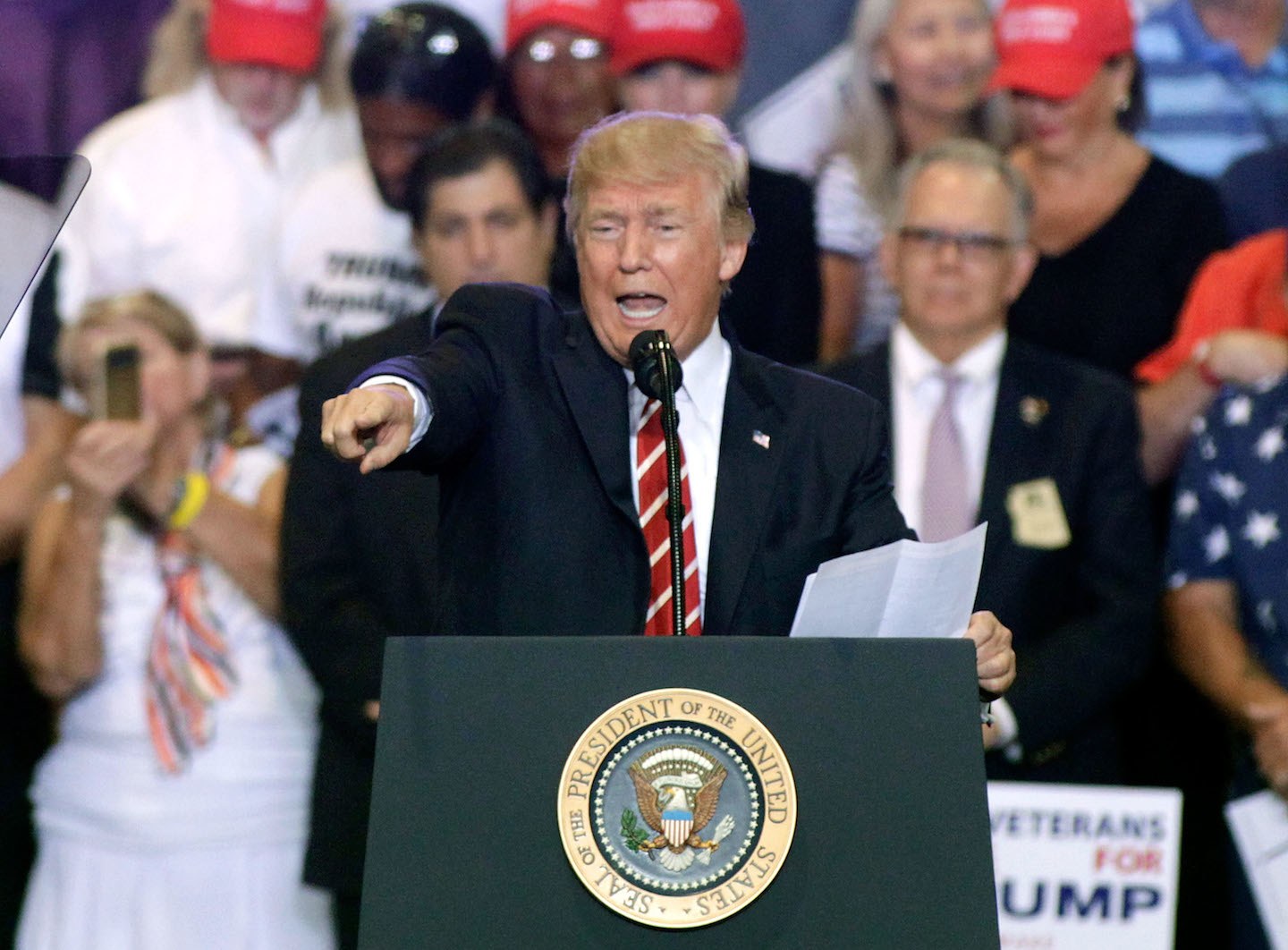 After walking on stage at the Phoenix Convention Center to "God Bless the U.S.A." for what was, effectively, a 2020 campaign rally, Donald Trump repeatedly ditched his teleprompter and went off-script as he ranted about being mistreated by the media in the wake of Charlottesville, relentlessly attacked an array of enemies including both of Arizona's Republican senators, and portrayed himself as the true victim of a violent clash between white supremacists and counter-protesters that left one woman dead. Journalists and other social-media commentators watched, stunned, as he proceeded to spend the rest of his hour-long speech unloading on the mainstream press, praising a CNN pundit who was fired for tweeting a Nazi slogan, and re-litigating his entire response to Charlottesville, line by line, in what has become a hallmark of the Trump presidency: a full-on public meltdown.
With a captive, cheering audience of thousands before him, Trump reveled in the opportunity to vent, after a long summer of political crises, and to set the record straight. "What happened in Charlottesville strikes at the core of America," he said, blaming the "thugs" and the "dishonest media" for the violence in Virginia. This statement drew nearly a minute of boos from the rabid crowd. "I strongly condemned the white supremacists, neo-Nazis, and the K.K.K. They know it because they were all there," he said, referring to the media. "I thought I'd take just a second and do this, because you know where my heart is, to show how damn dishonest these people are."
Trump proceeded to reread the statement he initially gave in response to the protest, conveniently leaving out the part where he blamed "many sides"—both white supremacists and the anti-racist counter-protesters—for the violence. He mocked the media: "It took a day! Why didn't he say it fast enough!" He berated The New York Times, The Washington Post, and CNN in one breath, and flatly defended himself against charges of racism. "And then they say, is he a racist? And then I did a second one," he said, referring to another statement he gave. "And then I said, racism is evil. Did they report that I said racism was evil? They all say what a bad guy I am. And then you wonder why CNN is doing relatively poorly in the ratings. They put seven people, all anti-Trump, and then they fired Jeffrey Lord!" he added, referring to the pundit who was fired after tweeting "Seig Heil" at a critic. "Poor Jeffrey."
"The words were perfect," Trump said of his own words about Charlottesville. "They only take out anything they think of, and all they do is complain. The media can attack me, but where I draw the line is when they attack you, the decency of our supporters. You are honest, hard-working, tax-paying—and you're over-taxed, but we're going to get your taxes down—Americans. It's time to expose the crooked media deceptions and to challenge the media for their role in fomenting divisions. They are trying to take away our history and our heritage."
For a speech that began, ostensibly, as a call for unity, Trump's rally was filled with barbed attacks on all variety of people who he said had no place in America. Trump spoke broadly about "liberating our towns" from undocumented immigrants, citing Joe Arpaio, pledging to purge "sanctuary cities" of undocumented immigrants and leading the crowd in a "build the wall" chant. He threatened a government shutdown if the wall he wants constructed between the U.S. and Mexico isn't approved. And, after the White House said Trump wouldn't pardon Arpaio during his rally in Phoenix, Trump hinted that a pardon would come. "Do the people in this room like Sheriff Joe? Was Sheriff Joe convicted for doing his job?" he asked. "He should have had a jury. But I'll make a prediction. I think he's gonna be just fine. But, but, I won't do it tonight because I don't want to cause any controversy. Is that O.K.? But Sheriff Joe can feel good."
The president reserved a few positive words for his friends in the conservative media—the only truthful people, he claimed, in a country full of fake news. Trump sang the praises of Fox and Friends and "honest guy" Sean Hannity, specifically, unlike the rest of the mainstream press. "These are dishonest people. They are bad people. The only people giving a platform to hate. Look back there! Those live red lights, they're turning those lights off fast," Trump said, apparently referring to the media bullpen at the convention center. "Like CNN. It does not want its falling viewership to watch what I'm saying tonight."
Reality
In his 77 minute speech, Trump:
Lied about number of protesters outside the event, saying not too many people were there, but videos show thousands.
Attacked a free and open press for not showing crowd size. They were.
Attacked the press for misquoting his response to Charlottesville, so he read his statement, misquoting it, conveniently leaving out the controversial statement on blaming violence "on many sides."
Defended the Confederacy.
Threatened to shut down the government if Congress doesn't fund a southern border wall that he promised Mexico would pay for.
Attacked both Republican Senators from Arizona.
Claimed no president has even done more than him in the first seven months, despite no major legislation passed during this time.