Trump Officially Nominates Climate-Denying Conservative Talk Radio Host as USDA's Top Scientist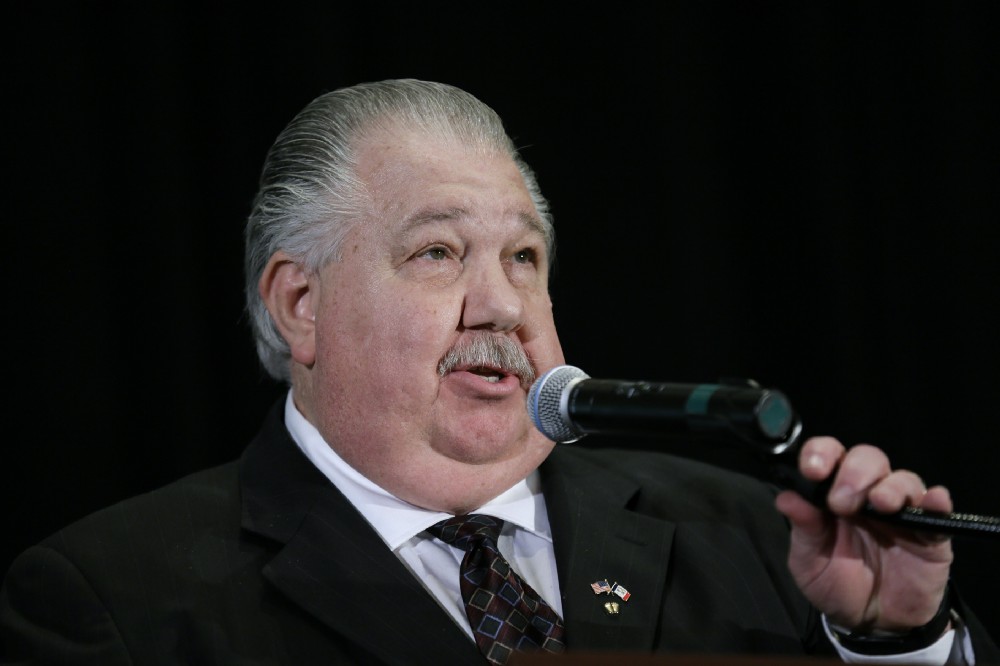 Sam Clovis, a former Trump campaign adviser and one-time conservative talk radio host, has no background in the hard sciences, nor any policy experience with food or agriculture. Still, that did not stop President Donald Trump from officially nominating Clovis to the position of the United States Department of Agriculture's undersecretary of research, education, and economics, the agency's top science position.
In the past, the undersecretary of research, education, and economics has brought years of experience in science, public health, or food policy. Previous undersecretaries have been biochemists, plant physiologists, or food nutrition experts. The most recent undersecretary, Catherine Woteki, came to the position from Mars, Inc., where she helped manage the company's scientific research on health, nutrition, and public safety.
Clovis, on the other hand, comes to the position after serving as national co-chair for the Trump campaign, which he joined in 2015. Before that, Clovis was a professor of economics at Morningside College in Sioux City, Iowa. He has a doctorate in public administration, and unsuccessfully ran for the U.S. Senate in 2014.
"Dr. Clovis was one of the first people through the door at USDA in January and has become a trusted advisor and steady hand as we continue to work for the people of agriculture," USDA Secretary Sonny Perdue said in a statement on Wednesday. "He looks at every problem with a critical eye, relying on sound science and data, and will be the facilitator and integrator we need. Dr. Clovis has served this nation proudly since he was a very young man, and I am happy he is continuing to serve."
He has served as the administration's top USDA policy adviser since January, signing off on a memo sent to USDA scientists telling them to cease publishing "outward facing" documents, like press releases or fact sheets.
Clovis, like so many of the Trump administration's top policy officials, does not accept the scientific consensus on climate change. In 2014, he told Iowa Public Radio that climate science is "junk science" and "not proven." He also said in an interview with E&E News in October that the Trump administration would not prioritize climate change or climate science at the USDA — a sharp break from the Obama administration, which made a point of trying to better prepare farmers and the food system for imminent climate-fueled changes like droughts or heavier storms.
"Whether or not Clovis acknowledges climate change, it is happening, and agriculture has to deal with that," Patty Lovera, assistant director of Food and Water Watch, told ThinkProgress. "They have to come up with techniques to grow crops in tough weather conditions, and there are always research needs for how you grow crops in changing climate more efficiently with less resources."
Clovis would not be the only senior official at USDA to question established climate science. Secretary Perdue called climate science "obviously disconnected from reality" and "a running joke among the public" in a 2014 op-ed published in the National Review.
As undersecretary, Clovis will be responsible for administering policies to ensure USDA's scientists conform to "scientific integrity." It's unclear how Clovis will administer those programs, or whether he will specifically seek to undermine climate science, as EPA Administrator Scott Pruitt is doing with his "red team/blue team" initiative aimed at questioning mainstream climate science.
For Lovera, Clovis' nomination simply underscores the Trump administration's disdain for science, from the dismissal of dozens of EPA advisory board scientists to the deletion of climate information from government websites.
"It's a sad continuation of that trend that we were seeing with EPA and science advisory boards, and shutting down different websites," Lovera said. "It's just another sad example of the Trump administration putting politics first, and inside USDA, the politics of Big Agriculture."