Trump's EPA chief met with chemical CEO before dropping pesticide ban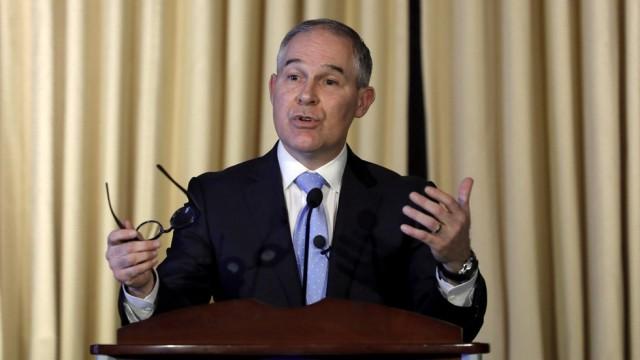 Environmental Protection Agency Administrator Scott Pruitt met privately with the CEO of a top chemical company before deciding to drop a ban on a widely-used pesticide that has been shown to harm children's brains, The Associated Press reported Tuesday.
Pruitt, President Trump's top environmental official, reportedly met with the CEO of Dow Chemical, Andrew Liveris, for 30 minutes at a Houston hotel on March 9, according to records obtained by the AP.
Pruitt announced later that month that he would no longer pursue a ban on Dow's chlorpyrifos pesticide from being used on food. An EPA review found that even minuscule amounts of the pesticide could impact fetus and infant brain development.
An EPA spokeswoman told the AP that Pruitt and Liveris were "briefly introduced" at the conference, where both were speaking.
"They did not discuss chlorpyrifos," the spokeswoman said. "During the same trip he also met with the Canadian minister of natural resources, and CEOs and executives from other companies attending the trade show."
Pruitt also reportedly attended a larger group meeting with two other Dow executives, but the spokeswoman said they didn't discuss the pesticide there.
The Pesticide Action Network and the Natural Resource Defense Council both sued the EPA days after Pruitt's decision. "President Trump and his EPA flouted court orders and EPA's scientific findings that chlorpyrifos puts children, farmworkers, their families and many others at risk," Patti Goldman, the Earthjustice managing attorney handling the case, said in a statement at the time.
The American Academy of Pediatrics also called for the pesticide to be taken off the market, sending a letter to Pruitt on Tuesday saying they were "deeply alarmed" by his decision to allow the pesticide to continue to be used.
[The Hill]