Trump Lawyers: Tax Returns Show No Income from Russia "With Few Exceptions"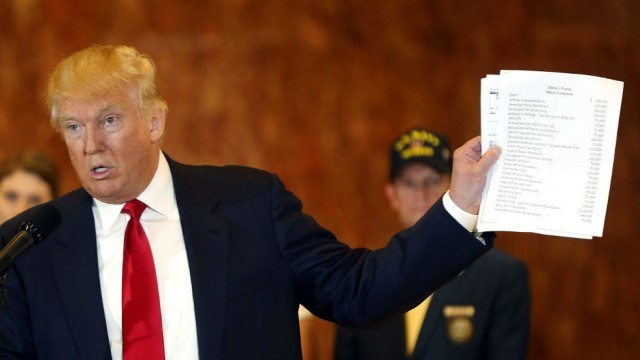 President Trump's lawyers on Friday said that Trump's last 10 years of tax returns do not reveal "any income of any type from Russian sources" with some exceptions but refused to release copies of his tax returns to verify.
The claim was made in a letter sent to Trump from his attorney at Morgan Lewis. The letter was obtained Friday but dated March 8, 2017. The letter was also sent to Sen. Lindsey Graham (R-S.C.), as White House press secretary Sean Spicer stated at Tuesday's press briefing.
The letter says that "with a few exceptions," Trump's tax returns show no equity investment by Russians into Trump entities or any debt owed by Trump to lenders. Trump did receive income from the 2013 Miss Universe pageant held in Moscow and a property sold to a Russian billionaire for $95 million.
he report sparked backlash online as many questioned the "with few exceptions" caveat and continued calls for Trump to release his tax returns.
Rep. Bill Pascrell (D-N.J.), a leader of Democratic efforts to release Trump's tax returns, tweeted "exceptions?" following the report.
Exceptions?#CongressMustRequest a closed session review of @POTUS #TaxReturns to help understand the full extent of #TrumpRussia story. https://t.co/adektoDBY0

— Bill Pascrell, Jr. (@BillPascrell) May 12, 2017
Congressional Democrats have repeatedly pushed the tax return issue in Congress. They've argued that it's important to see Trump's tax returns to learn about his potential ties to Russia and that lawmakers need to know how he would benefit from any tax-reform legislation.
Earlier this year, House Democrats offered resolutions for six consecutive weeks that would direct the House to request Trump's tax returns from the Treasury Department. In April, they started an effort to force a House floor vote on a bill to require presidents and presidential nominees to disclose their tax returns.
While a number of Republican lawmakers have said they want Trump to release his tax returns, most have been reluctant to join Democrats' efforts on the topic. They've said that Trump should release his returns voluntarily and that it's not against the law for Trump to keep them private.
The public last month also joined in calls for Trump to release his tax returns, with tens of thousands turning out for Tax Day protests across the U.S.
Earlier this week, Trump hinted he would not release his tax returns until after he left office.
(h/t The Hill)