Trump Seeks 'Major Investigation' Into Unsupported Claims of Voter Fraud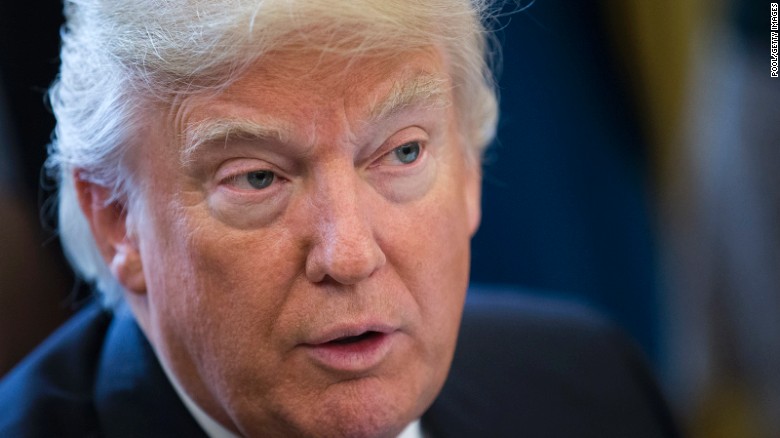 President Trump plans to ask for a "major investigation" into allegations of widespread voter fraud as he continues to claim, without providing evidence, that he lost the popular vote in November's election because millions of illegal votes were cast, according to tweets posted Wednesday.
The White House has yet to provide details, but Trump said in back-to-back tweets that the investigation into "VOTER FRAUD" — Trump used all capitals for emphasis — would cover "those registered to vote in two states, those who are illegal" and "those registered to vote who are dead (and many for a long time)."
"Depending on results," Trump tweeted, "we will strengthen up voting procedures!"
Trump did not indicate who would lead such an investigation or what ground it would cover. A Justice Department spokesman declined to comment on whether it would now launch an investigation.
Trump continues to face scrutiny, along with some mockery, for insisting during a private reception with congressional leaders Monday that there were between 3 million and 5 million ballots illegally cast in the election, allowing his Democratic rival Hillary Clinton to win the popular vote by more than 2.8 million votes, although she lost the electoral-college vote to Trump. The president and his aides have yet to provide any verifiable facts to back up his claim, and analyses of the election found virtually no confirmed cases of voter fraud, let alone millions.
Trump's campaign attorneys fought recount attempts in several states by Green Party candidate Jill Stein and stated in a recent court filing, "All available evidence suggests that the 2016 general election was not tainted by fraud or mistake."
A Trump adviser told The Washington Post on Wednesday that Trump has been stewing about his popular-vote count for weeks and insisting to friends that Clinton benefited from illegal votes in Democratic-leaning states such as California. He has mentioned to several of them his interest in launching an investigation into possible voter fraud, said the adviser, who was not authorized to speak publicly.
The adviser went on to frame Wednesday's tweets as a deeply personal move by Trump reflective of his thinking on the election and did not have details on whether congressional leaders had been briefed on Trump's desire to have an investigation, although the adviser said Trump did tell them Monday about his broader concerns regarding the election count during a reception at the White House.
Trump also tweeted that he will make his pick to fill the Justice Antonin Scalia's seat on the Supreme Court on Feb. 2. Scalia died last February.
Lawmakers from both parties have declined to embrace Trump's version of the election. House Speaker Paul D. Ryan (R-Wis.) said Tuesday that he has "seen no evidence to that effect." House Minority Leader Nancy Pelosi (D-Calif.) said at a news conference Wednesday that she cannot understand why the newly installed president is "so insecure."
"To suggest and to undermine the integrity of our voter system is really strange," Pelosi said. ". . . On top of it, he wants to investigate something that can clearly be proven to be false, but he resists investigations of a Russian disruption of our investigation and any connection to his campaign. All we want is the truth for the American people."
Rep. Jason Chaffetz (R-Utah), chairman of the House Oversight and Government Reform Committee, said he believes the "prime jurisdiction" to investigate alleged voter fraud is at the local and county levels. But he said there is a "federal function" since states set voting laws and certify the tallies.
"I don't see the evidence [of fraud]," Chaffetz added. "But he's the president and if he thinks it's there, have at it."
The National Association of Secretaries of State, which represents many of the country's state elections officials, said in a statement Tuesday: "We are not aware of any evidence that supports the voter fraud claims made by President Trump, but we are open to learning more about the administration's concerns."
Given that studies have shown that cases of in-person voter fraud are exceptionally rare, voting rights activists and others are worried that Trump's unfounded comments could lead to more voter-identification laws that they say disenfranchise poor or minority voters, such as the one in North Carolina that the Supreme Court declined to reinstate last summer.
Three congressional Democratic — Reps. Elijah E. Cummings of Maryland, Robert A. Brady of Pennsylvania and James E. Clyburn of South Carolina — say they are sending letters to 102 chief election officials and attorneys general in all 50 states and the District to request all cases of voters who tried to cast a ballot in the November election and were barred from doing so.
"Republicans in statehouses across America have passed restrictive laws that impair the ability of legitimate voters to participate, and they use the myth of voter fraud to justify their abuses," Cummings said in a statement.
At the Tuesday briefing, White House press secretary Sean Spicer defended Trump's "long-standing belief" that large-scale voter fraud occurred and pointed to a study that did not contain the conclusion he said it did. Spicer said there were no plans for an investigation but left the option open.
"Maybe we will," Spicer said. "We'll see where we go from here, but right now the focus of the president has is on putting Americans back to work."
When pressed again by reports on the possibility of an investigation, Spicer seemed to play down the prospect, saying "anything is possible."
Such an investigation could be led by the president's attorney general. Trump's pick for the position, Sen. Jeff Sessions (R-Ala.), has asserted in the past that voter fraud exists, but he has distanced himself from Trump's claim of millions of fraudulent votes.
"I don't know what the president-elect meant or was thinking when he made that comment or what facts he may have had to justify his statement," Sessions said at his confirmation hearing this month. "I would just say that every election needs to be managed closely, and we need to ensure that there is integrity in it. And I do believe we regularly have fraudulent activities occur during election cycles."
Sessions, who has yet to be confirmed, said he had not talked to Trump "about that in any depth or particularly since the election." A spokeswoman for Sessions declined to comment beyond what the senator said at his confirmation hearing and referred questions about the investigation to the White House. Sessions has been questioned on his handling of a voter fraud case brought against black civil rights activists in Alabama in the 1980s, when he was a U.S. attorney.
The Justice Department can establish jurisdiction when a federal candidate's name is on the ballot, though it is significantly harder when one is not. Although state law generally governs voter registration and other election-related matters such as the method of casting ballots, federal authorities are often seen as preferable to lead investigations into claims of irregularities. That is because federal authorities have more resources and are detached from local political interests and because their juries are generally drawn from a broader geographic area.
The Justice Department, though, looks at cases with an eye on whether they can be prosecuted — and does not intervene to attempt to improve voting systems. The investigation contemplated in the president's tweet might be more akin to a study that broadly assesses the problem, or non-problem, of voter fraud, and how state and local systems might prevent it.
(h/t Washington Post)
Reality
His alternative fact originated from a flawed survey on the conspiracy theory website InfoWars, which Trump is known to read.