Trump Jr. Compares Syrian Refugees to Poisoned Skittles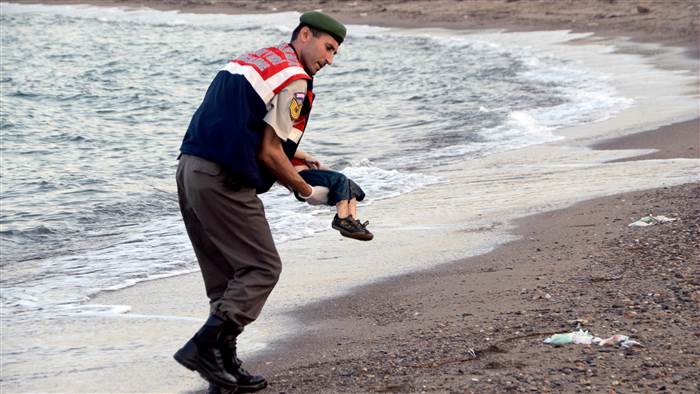 Donald Trump's eldest son has caused uproar on social media by comparing Syrian refugees to the fruit-flavoured sweets Skittles.
Trying to suggest the US should not accept any refugees, Donald Trump Jr posted an image that asked:
"If I had a bowl of skittles and I told you just three would kill you, would you take a handful?"
"That's our Syrian refugee problem."
He added: "This image says it all. Let's end the politically correct agenda that doesn't put America first."
This image says it all. Let's end the politically correct agenda that doesn't put America first. #trump2016 pic.twitter.com/9fHwog7ssN

— Donald Trump Jr. (@DonaldJTrumpJr) September 19, 2016
The food analogy has been used before to imply that, if a few people in a group are bad, it would be dangerous to take a single one in.
The language in Donald Jr's tweet was used in a post by conservative radio host Joe Walsh in August. Joe Walsh was a former single-term Congressman most remembered for being kicked off the air for using racial epitaphs to describe African Americans and for trying to incite violence against President Barack Obama.
But following the tweet by the Republican presidential candidate's son, the company that owns Skittles, Wrigley, stepped in.
"Skittles are candy. Refugees are people," said Denise Young, vice-president of corporate affairs for Wrigley America.
"We don't feel it is an appropriate analogy," she added. "We will respectfully refrain from further commentary as anything we say could be misinterpreted as marketing."
Meanwhile the photographer who took the picture of the Skittles said the picture was used without his permission and revealed that he was himself a former refugee.
(h/t BBC)
Reality
In the US, each year, you are far more likely to die due to choking on candy than due to a terrorist attack by a refugee. According to the US National Safety Council and Cato Institute you have a:
1 in 3,408 chance of choking to death on food
1 in 3,640,000,000 chance of being killed by a refugee in a terror attack
The fact is, the refugee resettlement program is the single most difficult way to enter the United States. So refusing refugees was truly about preventing some "Trojan horse" terrorist, it is such a highly ineffective policy that should put into question the very qualifications of this candidate.
Instead this follows a pattern of white supremacist from Donald Trump Jr. and his father and keeping brown people with different beliefs from them out of the country. Some examples include: