Trump Denounces Bombing Suspect's Hospitalization and Right to an Attorney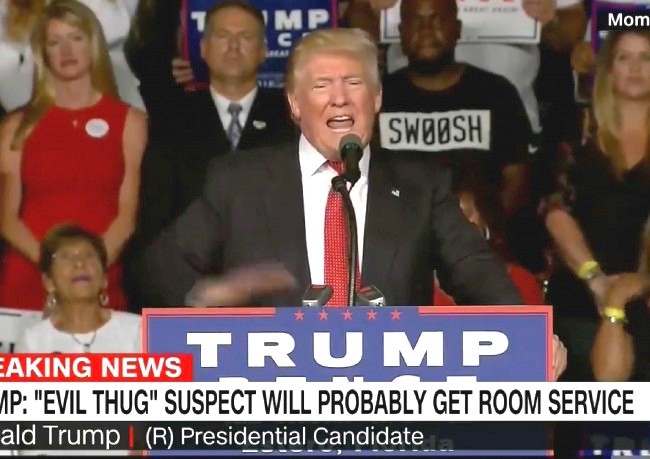 Speaking to supporters in Florida Monday, Donald Trump denounced that the alleged NYC bomber would be given hospitalization and legal counsel in accordance with his constitutional rights.
"Now we will give him amazing hospitalization. He will be taken care of by some of the best doctors in the world. He will be given a fully modern and updated hospital room," Trump said.
The suspect, Ahmad Khan Rahami, an Afghan-born naturalized citizen, was injured in a shootout with the police Monday morning before being apprehended. The FBI said he was "directly linked" to the homemade bombs that appeared over the weekend in New York and New Jersey.
Trump continued: "And he'll probably even have room service, knowing the way our country is. And on top of all of that, he will be represented by an outstanding lawyer. His case will go through the various court systems for years and in the end, people will forget and his punishment will not be what it once would have been. What a sad situation."
He argued for the need for "speedy, but fair trials," as well as a "very harsh punishment."
He also said that authorities must use "whatever lawful methods are available to obtain information from the apprehended suspect to get information before it's no longer timely." (Previously on the campaign trail, Trump has spoken of his enthusiasm for waterboarding and other methods of torture.)
Speaking to CNN's Wolf Blitzer on Monday evening, New York's Democratic Governor Andrew Cuomo responded to Trump by saying, "Welcome to America. We have a system of jurisprudence. You're innocent until proven guilty. You have a right to counsel. And you have the right to hospitalization if you're ill."
Cuomo added, "Let's not lose ourselves in an effort to protect ourselves. We want to protect America. What is America? It's the rights that we've established."
He said, "I fear sometimes with this rhetoric that people are suggesting we lose what's special about us in a way to protect ourselves. And that doesn't work. It's not who we are. Let's preserve the system. Let's be fair about it. Let's keep our heads."
(h/t Mediaite)
Media