Trump Told Reporter Violence at Rallies Added 'Excitement'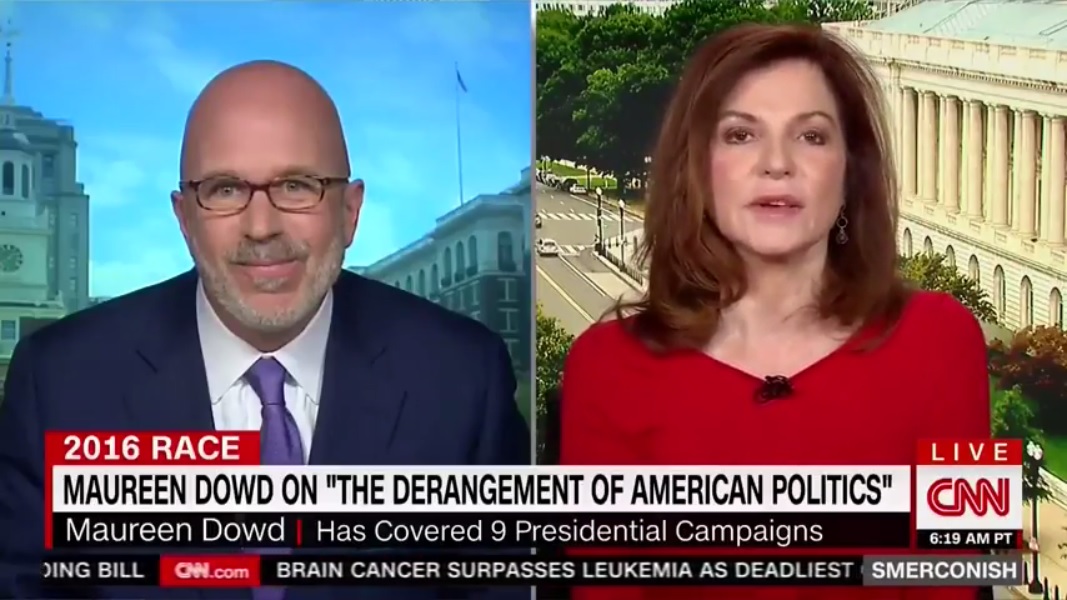 On CNN this morning, Michael Smerconish spoke with New York Times columnist Maureen Dowd about whether she's said any "wrong" things about Donald Trump over the past year.
"I've gotten so many things wrong," Smerconish said, "as Donald Trump likes to remind people about this cycle. What have you gotten wrong that stands out?"
Dowd said, "Oh, wow. I don't know. You tell me. I don't know."
They both laughed and Smerconish said, "Maybe it's all subjective."
But one detail in Maureen Dowd's CNN interview this morning may give some insight into why Donald Trump lashed out at her afterwards.
Dowd told Michael Smerconish that during one of her interviews with Trump, she confronted him about the violence at his rallies, and this exchange ensued:
"I told him that it was wrong that there was violence being incited at his rallies and that reporters were being roughed up. And he paused, you're right, he did listen, but then he disagreed and said he thought the violence added a frisson of excitement."
She also asked him why he would attack Bill Clinton over his personal life when he's not exactly had the most stable marriages.
(h/t Mediaite)
Media
https://www.youtube.com/watch?v=GvzYIptzXXA