Trump on Kaepernick: Maybe he should find another country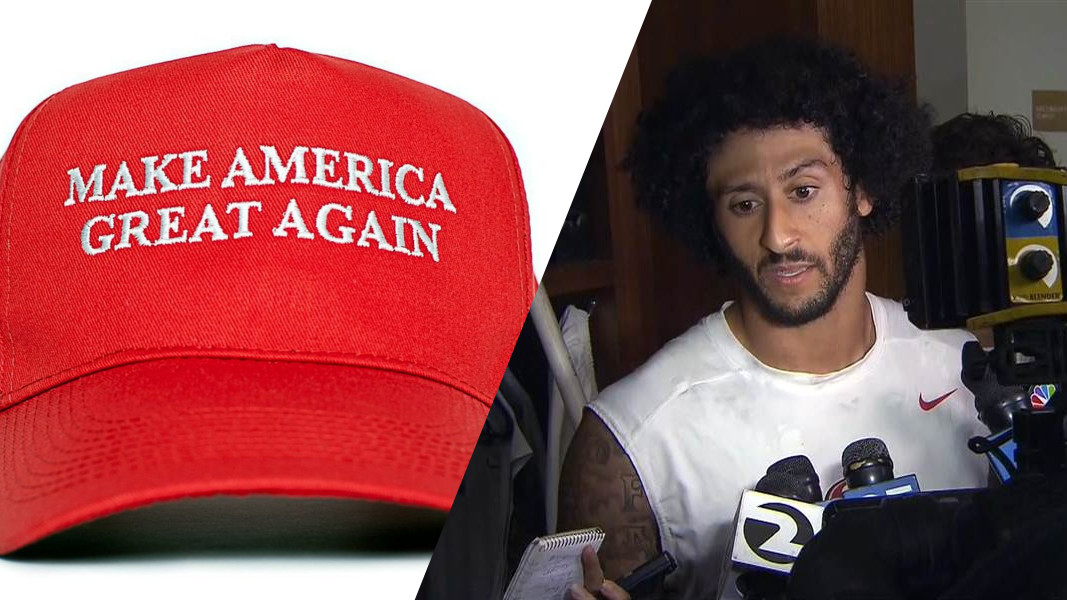 Republican presidential candidate Donald Trump has weighed in on San Francisco 49ers quarterback Colin Kaepernick's decision to refuse to stand for the playing of the national anthem in protest of what he deems as racial injustice in the United States in addition to recent comments from the quarterback on Trump and Democratic presidential candidate Hillary Clinton.
"I have followed it and I think it's personally not a good thing. I think it's a terrible thing, and you know, maybe he should find a country that works better for him, let him try, it's not gonna happen," Trump told The Dori Monson Show on Monday, per Buzzfeed.
Kaepernick has refused to stand during the national anthem during the Niners' three preseason games this summer, telling NFL Media's Steve Wyche that his decision is based on perceived societal wrongdoings against African-Americans and minorities in the U.S.
"I am not going to stand up to show pride in a flag for a country that oppresses black people and people of color," Kaepernick told Steve Wyche Friday night. "To me, this is bigger than football and it would be selfish on my part to look the other way. There are bodies in the street and people getting paid leave and getting away with murder."
Kaepernick reiterated his stance during an 18-minute long media session in the Niners locker room Sunday, during which he told reporters he planned to continue to sit during the playing of the national anthem. Kaepernick also was critical of both Trump and Clinton when he met with the media.
"I think the two presidential candidates that we currently have also represent the issues that we have in this country right now. You have Hillary who's called black teens or black kids super predators. You have Donald Trump who is openly racist. We have a presidential candidate who deleted emails and done things illegally and is a presidential candidate. That doesn't make sense to me. Because if that was any other person, you'd be in prison. So what is this country really standing for?"
The Niners released the following statement this weekend regarding Kaepernick's decision:
"The national anthem is and always will be a special part of the pre-game ceremony. It is an opportunity to honor our country and reflect on the great liberties we are afforded as its citizens. In respecting such American principles as freedom of religion and freedom of expression, we recognize the right of an individual to choose and participate, or not, in our celebration of the national anthem."
(h/t NFL.com)
Reality
We will not wade into the discussion surrounding Colin Kaepernick's controversial protest, but we will take issue with Trump's moronic logic of "if you don't like American then get out."
Trump is committing a major logical problem called the "false dilemma" fallacy, otherwise known as "black-and-white thinking." It assumes that there are only two viable options available: namely, show an unflinching and blind love and patriotism for America or move out of the US to some foreign country.
Obviously, restricting to these two options are not justified. One can live in this country and still criticize it without any contradiction. Consider a third option, which is one of the duties of any citizen, American or not, to try and make their country more perfect.
It is also important at this time to point out that Donald Trump himself has many times been very critical of the United States. He claims America "doesn't win anymore," has "weak leaders," and during his convention speech described America as falling apart, a nation devoid of jobs, brimming with illegal immigrants and rampant with crime. It was a bleak indictment of the nation.
And according to polls, Trump supporters said they like the candidate because of his willingness to state blunt truths about America and "tell it like it is," unburdened of the perceived niceties of "political correctness."
So Trump supporters wearing their "Make America Great Again" hats shouldn't be so quick to defend him over his hypocritical and illogical reasoning.