Donald Trump Claims He Watched a Nonexistent Recording of Iranian Money Transfer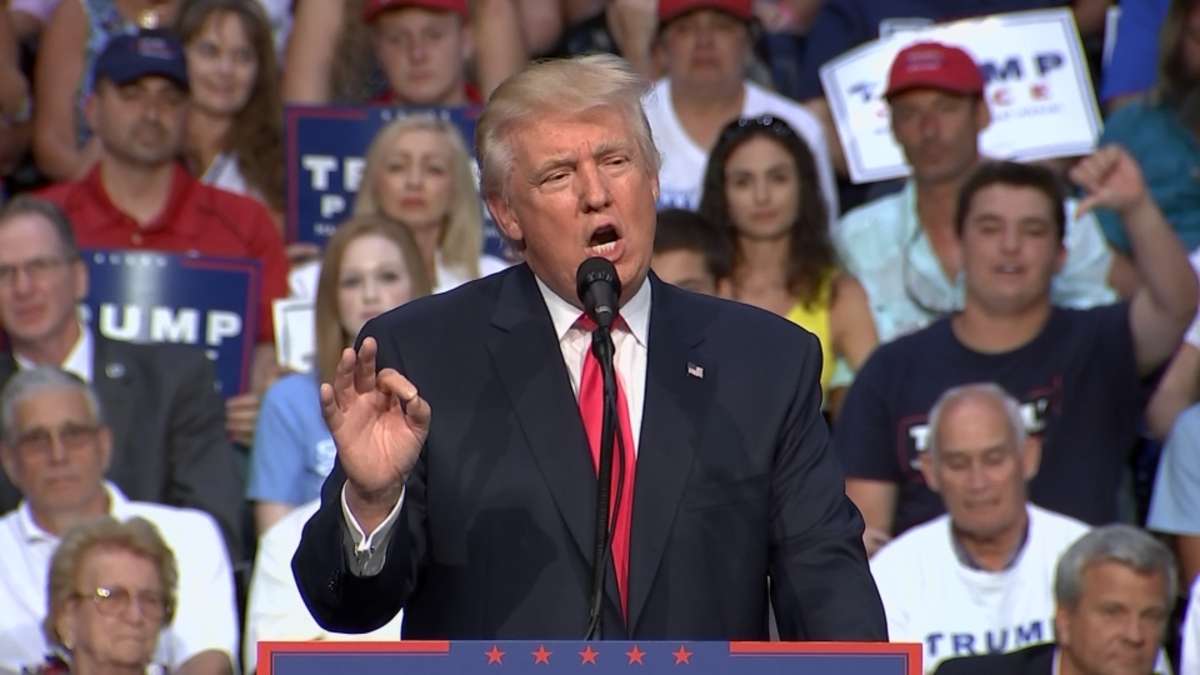 As Fox News reported on the controversial transfer of $400 million in cash to Iran in January, it repeatedly played dark, grainy footage of shadowy figures walking off a small private plane with bags in hand. The video is often labeled as being from Jan. 17 in Geneva where three Americans first landed after being released from prison in Tehran.
Republican nominee Donald Trump watched this sort of footage, according to his spokeswoman, and concluded that it showed the controversial money transfer that was described in detail for the first time this week by the Wall Street Journal. At a rally in Daytona Beach, Fla., on Wednesday afternoon, Trump announced that the months-old video had been recorded by the Iranian government and released to embarrass the United States.
"Remember this: Iran — I don't think you heard this anywhere but here — Iran provided all of that footage, the tape of taking that money off the airplane," Trump said at the rally. "Right?"
Trump provided no source for this exclusive information but described in detail what he saw in the video.
"Now, here's the amazing thing: Over there, where that plane landed, top secret, you don't have a lot of paparazzi. You know, the paparazzi doesn't do so well over there, right?" Trump said, seeming to refer to Iran and not Switzerland, where the footage was recorded. "And they have a perfect tape, done by obviously a government camera, and the tape is of the people taking the money off the plane. Right? That means that in order to embarrass us further, Iran sent us the tapes. Right? It's a military tape; it's a tape that was a perfect angle, nice and steady, nobody getting nervous because they're gonna be shot because they're shooting a picture of money pouring off a plane."
Twitter quickly filled with confusion and this central question: What is Trump talking about?
Several senior U.S. officials involved in the Iran negotiations told the Associated Press on Wednesday they weren't aware of any such footage. There was speculation that perhaps Trump saw the footage during one of the classified security briefings provided to presidential nominees, but Trump's campaign chairman Paul Manafort said in an interview on Fox News earlier in the day that those briefings have not yet begun.
The Washington Post asked Trump's staff to explain what Trump was talking about and emailed a link to a Fox News clip that showed the January footage from Geneva, asking if that was the video the nominee saw.
"Yes," spokeswoman Hope Hicks responded in an email. "Merely the b-roll footage included in every broadcast."
(h/t Washington Post)
Reality
Donald Trump later repeated this false claim at another rally in Portland, Maine. Then after being corrected by about every news agency Trump admitted his error in an early-morning tweet Friday, without actually saying he was wrong.
There was nothing secret or clandestine about the $400 transfer of cash to Iran as it was made public early this year.
The $400 million payment — part of an overall $1.7 billion settlement of claims — was announced by the State Department on Jan. 17, the same day that President Obama announced the release of the detainees.
The U.S. had no way to directly deliver cold hard currency to Iran. Rather, the pallets traveled to Switzerland and the money was eventually transferred to Iran.
Media
https://www.youtube.com/watch?v=dhKjAqpCbcU