Trump: Dallas Shootings Are 'Attack on Our Country'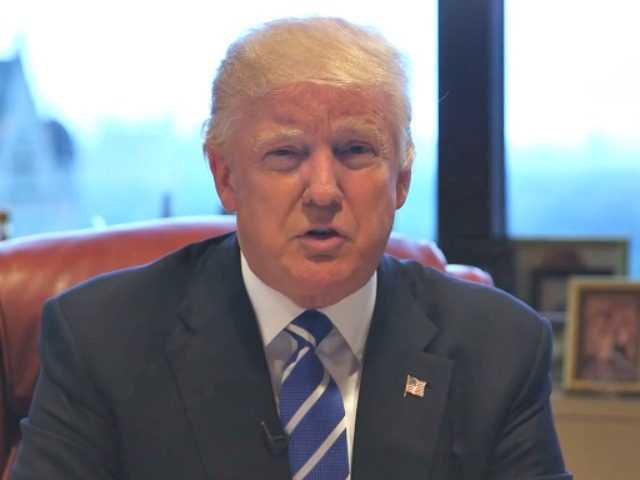 Hours after five Dallas police officers were killed and seven others wounded during a protest of this week's shootings of black men in Louisiana and Minnesota, presumptive Republican nomination Donald Trump reacted with a call for peace.
Trump tweeted Friday morning:
Prayers and condolences to all of the families who are so thoroughly devastated by the horrors we are all watching take place in our country

— Donald J. Trump (@realDonaldTrump) July 8, 2016
Trump's campaign later announced that his event scheduled on Friday in Miami had been canceled, and released a statement condemning the "horrific execution-style shootings" as "an attack on our country."
"It is a coordinated, premeditated assault on the men and women who keep us safe. We must restore law and order. We must restore the confidence of our people to be safe and secure in their homes and on the street. The senseless, tragic deaths of two motorists in Louisiana and Minnesota reminds us how much more needs to be done," Trump said in the statement, referring to the police shootings earlier this week, although the shooting in Louisiana happened outside of a convenience store, not in a vehicle as in Minnesota. (The statement was later corrected to read "two people.") "This morning I offer my thoughts and prayers for all of the victims' families, and we pray for our brave police officers and first responders who risk their lives to protect us every single day."
"Our nation has become too divided. Too many Americans feel like they've lost hope. Crime is harming too many citizens. Racial tensions have gotten worse, not better. This isn't the American Dream we all want for our children. This is a time, perhaps more than ever, for strong leadership, love and compassion. We will pull through these tragedies."
(h/t Politico)
Reality
Donald Trump sounded reasonable, made measured statements, and appeared to try his hand at unity during a very difficult time in our country. This is the exact type of speech we should hear from our political leaders during a tragedy.
However, while Trump's call for a nation to come together and promoting racial unity is right on the mark, it is missing the fact that since announcing his candidacy, Trump has used fear mongering, race-baiting, and strong man tactics to propel himself to the Republican nominee for the presidency. We've cataloged a long list of Trump's racist comments on Hispanics, Middle Eastern-Americans, African-Americans, Hebrews, Asians-Americans, and foreigners, that marginalizes minority groups and gives a greater platform to white supremacists.
For example, compare Trump's scripted statement and his "Make America Safe Again" video with his remarks only three weeks prior in response to the Pulse nightclub shooting in Orlando.
Donald Trump used divisive statements in an attempt to pit the LGBT community against the Muslim community:
"[Hillary Clinton] can't claim to be supportive of [LGBT] communities while trying to increase the number of people coming in who want to oppress them."
And placed the blame for the attack at the feet of Muslim-Americans:
"Muslim communities must cooperate with law enforcement and turn in the people who they know are bad—and they do know where they are."
Trump then renewed his call for a ban on Muslims from entering the United States, incorrectly identified the New York born shooter as an Afghan, and made other various misleading statements.
Media