Trump Attorney Threatens to Sue, Then Demands Retraction From New York Times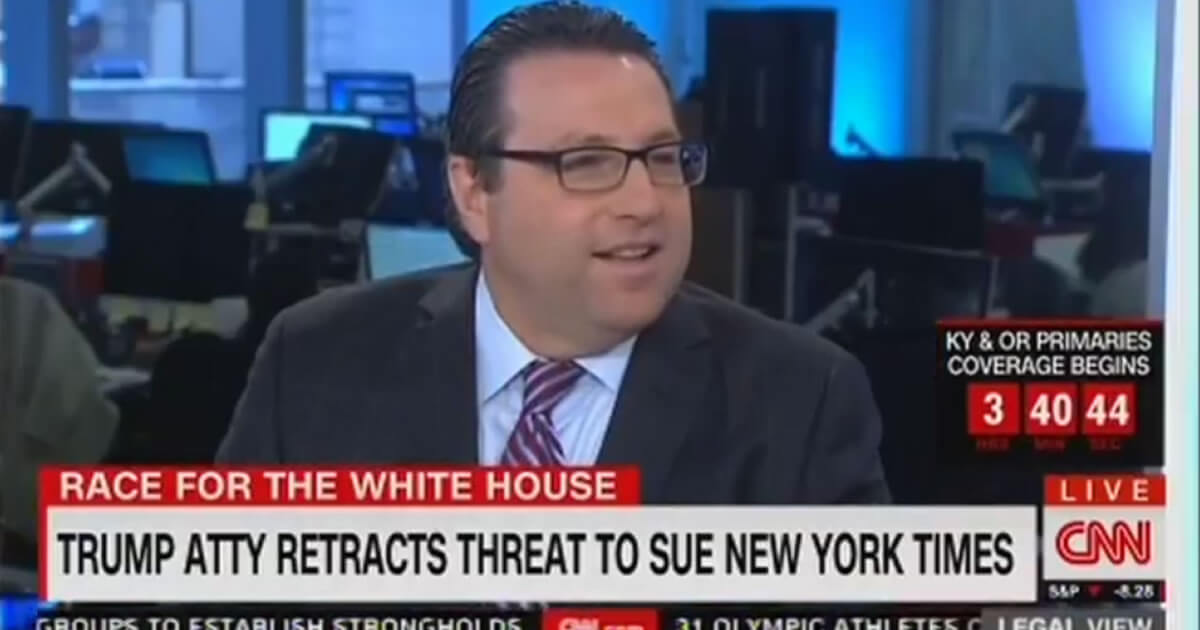 A Trump Organization attorney suggested Monday night that Donald Trump might sue the New York Times over a Sunday front page story about his behavior around women. Then on Tuesday morning, another Trump attorney said "I don't think that this is going to end up in litigation," but called on The Times to retract the story and apologize.
The newspaper will not be doing either. It is standing firmly behind the story, which was the product of weeks of intensive reporting.
Michael Barbaro and Megan Twohey's reporting, including 50-plus interviews, revealed examples of "unwelcome advances, a shrewd reliance on ambition, and unsettling workplace conduct over decades."
Trump began criticizing the story on Sunday morning, declaring that it was "a lame hit piece" and "a joke."
Later in the day Trump tweeted:
Why doesn't the failing @nytimes write the real story on the Clintons and women? The media is TOTALLY dishonest!

— Donald J. Trump (@realDonaldTrump) May 15, 2016
He kept up the critique on Monday morning. He seized on a Fox interview with the first woman mentioned in the story, former girlfriend Rowanne Brewer Lane, who said the Times "spun" her words to make them seem negative.
Brewer Lane did not dispute any of the specific quotes or ask for a correction. But her complaint — repeated on CNN later on Monday morning — was enough for Trump to claim that the story was a "fraud."
He called up CNN's "New Day" control room to point out the Fox interview. And he tweeted, inaccurately, that the whole story has been "proven false." He also told his Twitter followers that nothing in the newspaper could be trusted: "Who can believe what they write after the false, malicious & libelous story they did on me."
Trump's use of the word libelous stood out to some observers since Trump has talked repeatedly about wanting to "open up the libel laws" to make it easier to sue media companies.
The candidate didn't tweet a lawsuit threat, but Trump Organization assistant general counsel Jill Martin left one on the table when asked about it on CNN's "Erin Burnett OutFront" Monday night.
"I think that is a distinct possibility," Martin said. "I haven't talked to him about it personally, but, you know, when he's attacked like that and things are said falsely, he definitely fires back."
(h/t CNN)
Reality
We reviewed the New York Times article and found that, while 1 subject did not agree with the "tone" of her part of the piece, there have been no other complains from the 49 other women who were interviewed. There is no reason for the New York Times to retract the story from harassment and threats from Donald Trump and his campaign.
Donald Trump has a history of threatening to sue journalists and media companies who disagree with him and promised to use litigation to go after the press that write unflattering articles as President.
Freedom of the press in the United States is protected by the First Amendment to the United States Constitution. This clause is generally understood as prohibiting the government from interfering with the printing and distribution of information or opinions.
While as a candidate this does not apply to him, as he is not a government agent, it is an alarming trend that is normally only found in authoritarian regimes.
Media
https://www.youtube.com/watch?v=v7OqplyIu4w