Trump Dodges GI Bill Question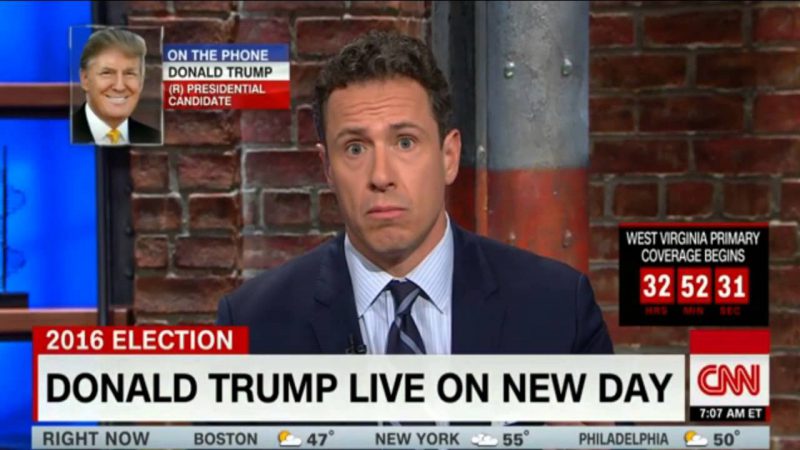 CNN's Chris Cuomo asked Donald Trump how he felt about a sneaky no-roll call vote in Congress to strip money from the G.I. bill and re-appropriate it elsewhere and whether we should keep the bill as it is.
Rather than answer the question outright, Trump appeared to dodge by babbling about how he loves the vets and knows so many vets, and they're tremendous, etc, etc, etc. Cuomo then asked him straight up whether or not he supported the GI bill – and Trump said no.
CHRIS CUOMO: On the military, you raise an important issue. We tried to get your campaign and the other campaigns to hold forth on whether or not they supported the current G.I. bill. As you know, in the Congress, they did this sneaky vote in the House where there was no roll call, and they were going to cut money from the G.I. bill to allow for other expenditures for vets. The vets were very upset. They said 'no, don't take money from us and reallocate it. Find the savings elsewhere.'
Do you support maintaining the G.I. bill the way it is right now and even growing it instead of cutting it?

DONALD TRUMP: I don't want to be hurting our vets. Our vets have been hurt enough. We treat illegal immigrants better than we treat our vets. So I'm going to do nothing to hurt our vets. I'm going to only help the vets —

CHRIS CUOMO: So is that a yes? —

DONALD TRUMP: — unlike Hillary Clinton, that thinks the vets are getting too much. And they're not getting too much. I've traveled, I've seen so many vets, I know so many vets now, and I have a lot of friends — I have developed great friendships among the vets. Our vets are being treated so badly —

CHRIS CUOMO: So is that a yes, I do support the current G.I. bill?

DONALD TRUMP: No. I want to bring jobs back to our country.
Reality
When asked about the specific legislation to cut and reappropriate G.I. Bill funds, Trump ignored the question and instead started playing his greatest hits. Trade deals, jobs, Hillary Clinton, babble, babble, babble. We conclude that Trump clearly had no idea what the subject was otherwise a direct and coherent answer would have been given.
As a candidate to be Commander-In-Chief it is very important to understand the legislation being put forth that would effect the well-being of the men and women under your command. This is further proof that Trump is highly unprepared for the Presidency.
Trump's opponents and a lot of left leaning media outlets have jumped on him for saying "no" to supporting the popular G.I. Bill in its current form. We've listened to his statement multiple times and we feel his "no" response was very meek and unsure, and earlier Trump did claim he was going to do nothing to hurt the vets. Therefor we cannot make the claim that Trump hates the vets that sites like The Huffington Post made.
Media
https://www.youtube.com/watch?v=WsdElAPlipI