Men Brawl at Albany N.Y. Trump Rally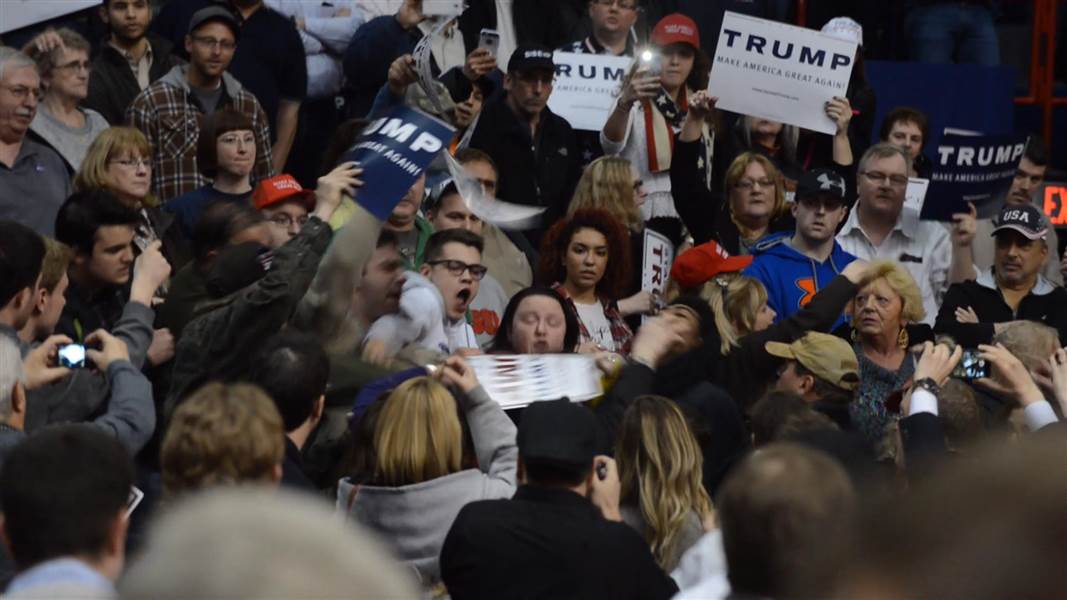 Trump's speech in Albany's Times Union Center on Monday night was geared to stir up the loud, enthusiastic crowd, with the front-runner continuing on his tirade against the "crooked" GOP nominating process — with focus on his loss in Colorado on Saturday.
The intensity of the rally was vividly captured Monday when a Trump supporter was recorded on video shoving another man in the face twice during a raucous gathering in Albany, New York.
The man — who gave his name as "Mike" and said "hell, yeah," he's a Trump supporter — told NBC News he shoved the man because he was "yelling in my face."
"I have my personal rights and my personal space," he told the Albany Times-Union after the rally. "They're going to start yelling about some bullshit, I'll snatch your ass up."
Video of the incident captured by several people shows the two men shouting at each other in the middle of a loud crowd. "Mike" lunges and shoves his right palm into the other man's face, backs up, lunges and makes contact a second time before other people in the crowd wrestle the two men away from each other.
Fight breaks out at @realDonaldTrump rally at the @TUCenter pic.twitter.com/YMZh60seGp

— Kate Seckinger (@KateSeckinger) April 11, 2016
(h/t NBC News)
Reality
Trump, on multiple occasions, has defended violence against protesters, encouraged violence against protesters, and promised violence. It stands to reason that it is Trump's actions and behavior that creates an environment where violence against protesters is acceptable.
Media
High Definition video of the encounter.