Leaked Trump Memo Reveals Critics Are Idiots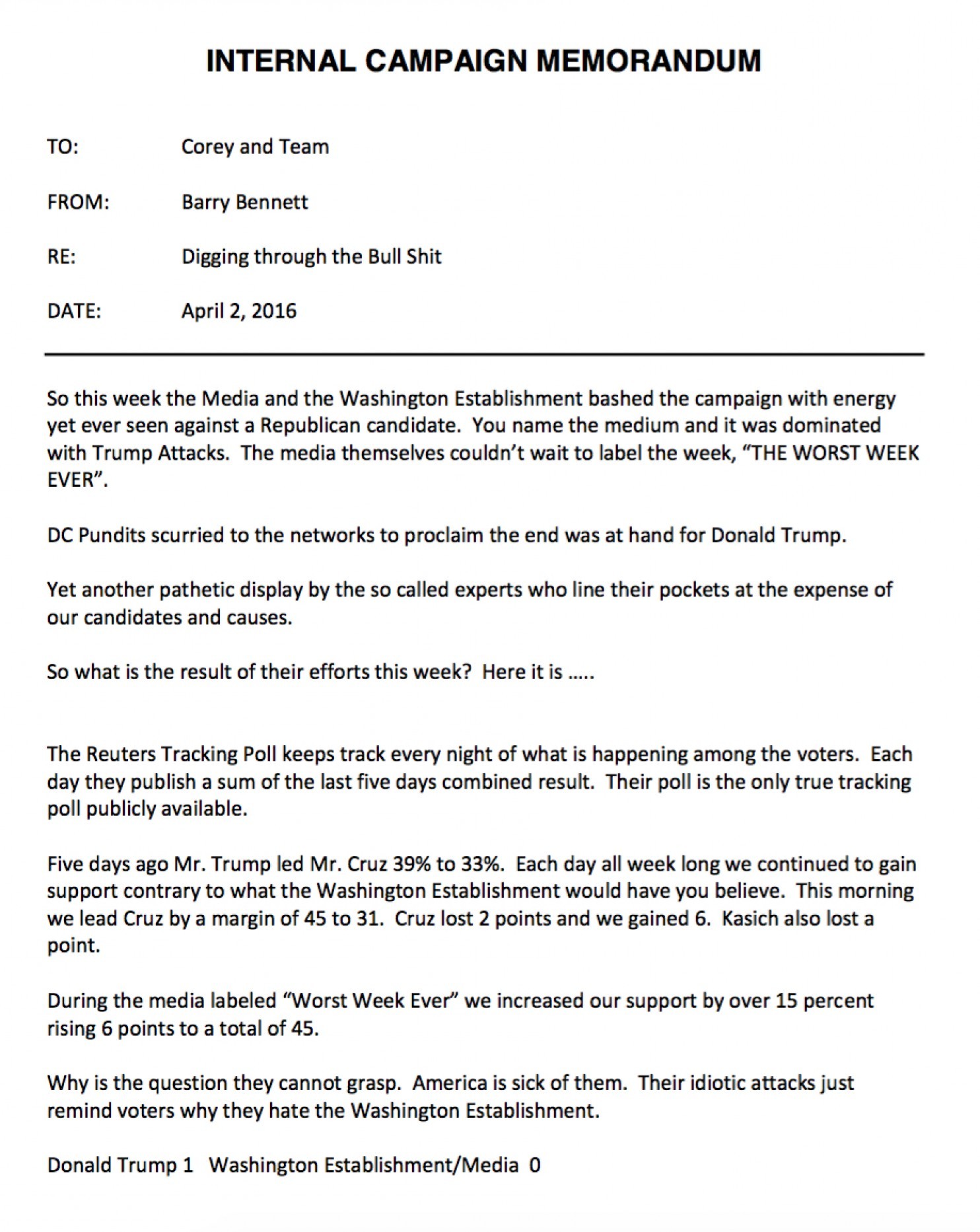 In a private document that was circulated over the weekend and obtained by The Washington Post, Trump campaign senior adviser Barry Bennett revealed the mounting frustrations among the billionaire's top aides as they closed what had been a tumultuous week.
Entitled "Digging through the Bull Shit," Bennett's memo urged Trump campaign manager Corey Lewandowski — who was charged with battery last week for yanking a reporter — and others to ignore critics who have questioned whether Trump's campaign for the Republican presidential nomination has waned.
"America is sick of them. Their idiotic attacks just remind voters why they hate the Washington Establishment," Bennett wrote, citing tracking poll data favorable to Trump.
"Donald Trump 1," Bennett declared, as if he was scoring the past week. "Washington Establishment/Media 0."
Bennett, a frequent presence on television, also lashed out at political opponents for having "scurried" onto the cable-news airwaves to offer at times scathing critiques of the Trump campaign, whether it was over its delegate-accumulation strategy or Trump's ability to win a general election.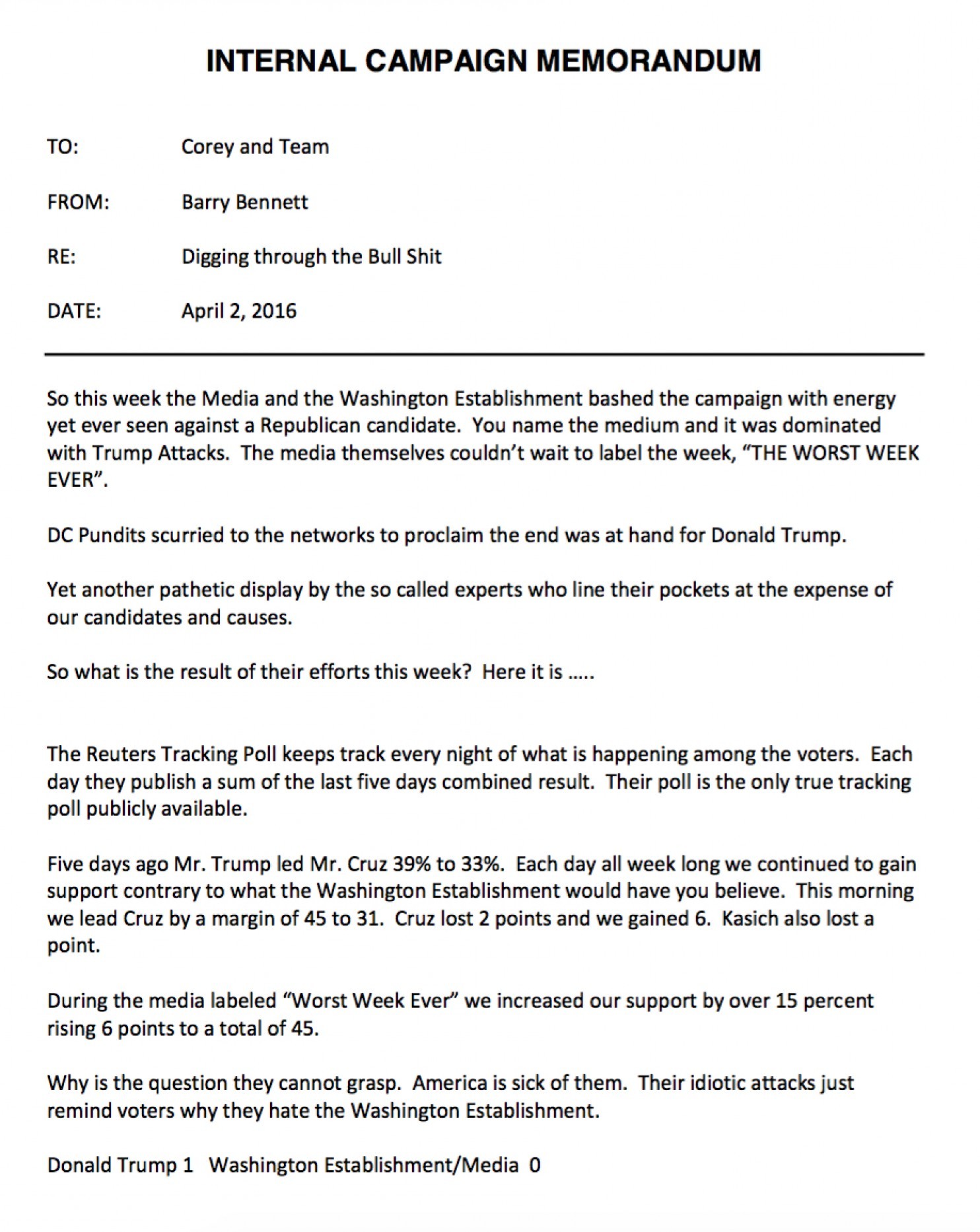 Reality
With a week like the Trump campaign had, flip-flopping on abortion, foreign policy disasters, staff assaulting reporters, violence at rallies, blaming victims of violence, and fails at fixing the national debt, instead of attacking the people pointing out your mistakes I would turn my criticism inward and stop making mistakes.
What is true is Trump gained points and Cruz lost points in the Reuters poll but calling Reuters tracking poll the "only true tracking poll publicly available" is not at all correct. It may be Trump's truth at this point in time because other polls show a closer race or Ted Cruz winning Wisconsin. It is also true that other polls show Trump as the most unpopular major party candidate in 32 years.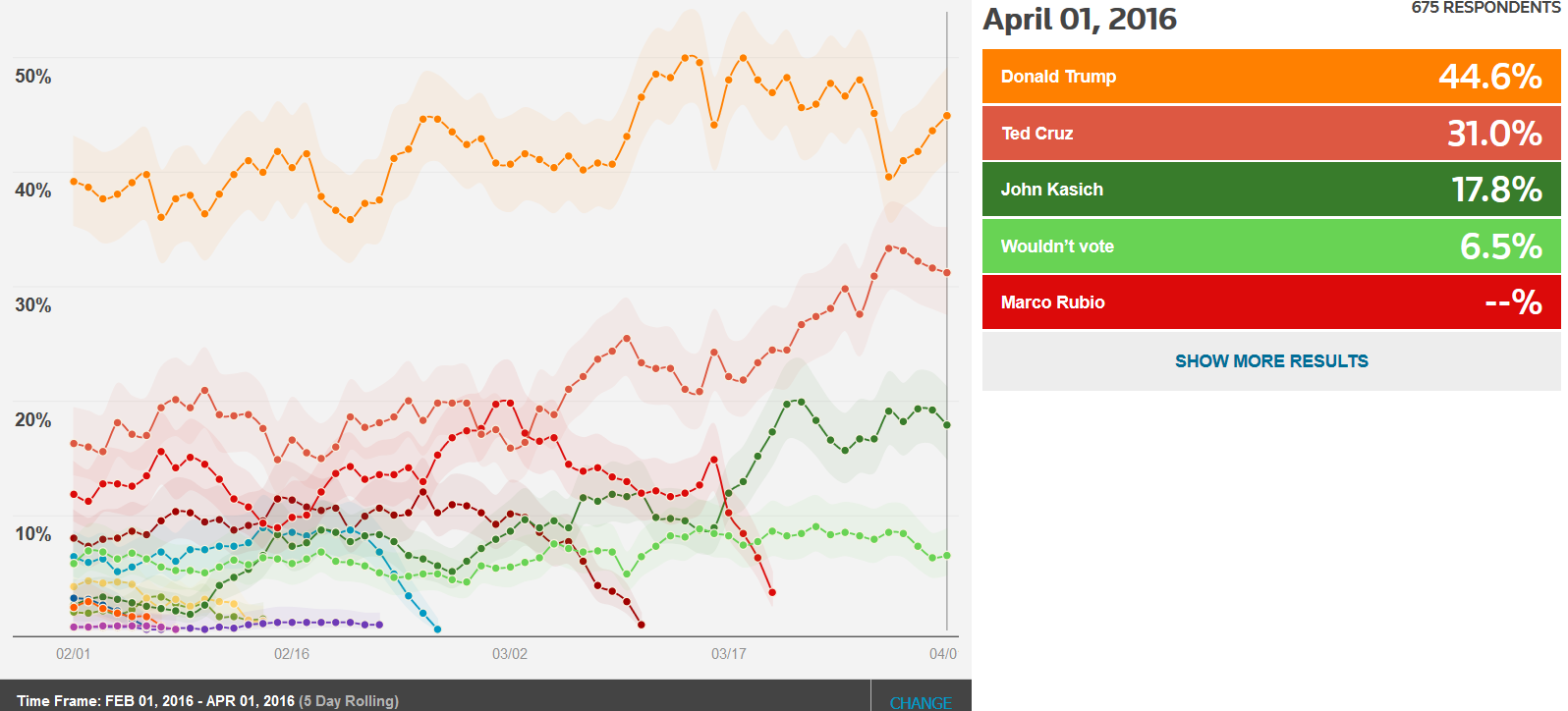 Links
https://www.washingtonpost.com/news/post-politics/wp/2016/04/04/internal-memo-reveals-trump-campaigns-mounting-fury-with-its-critics/
http://polling.reuters.com/#!poll/TR130/type/smallest/filters/PARTY_ID_:2/dates/20160201-20160401/collapsed/false/spotlight/1