Police Use Pepper Spray to Disperse Protesters Outside Trump Rally in Kansas City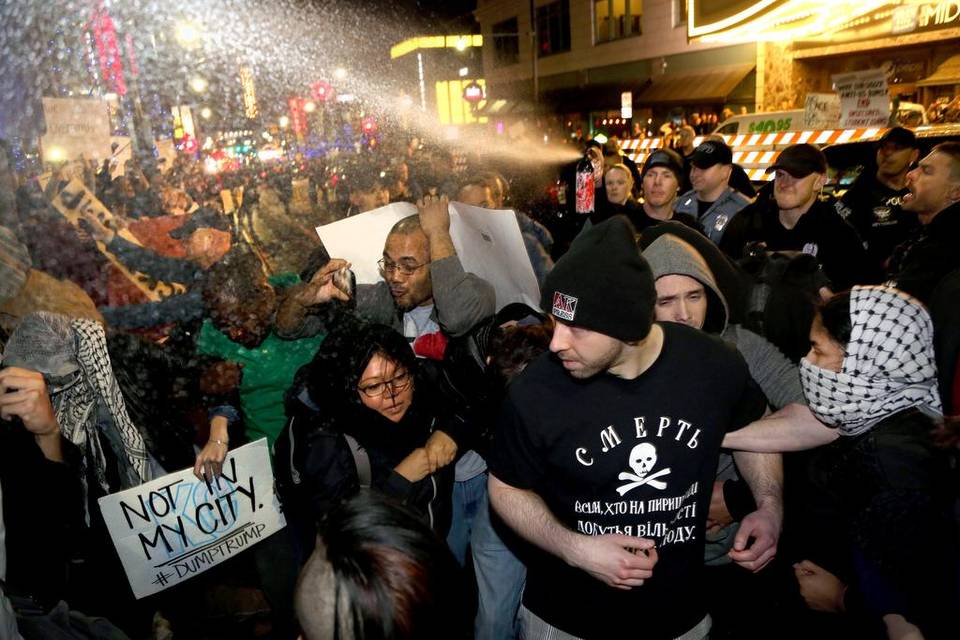 The police used pepper spray twice to disperse protesters outside Donald J. Trump's rally here Saturday night, just 24 hours after confrontations between his supporters and demonstrators led to the cancellation of a Chicago event.
Cellphone video posted on social media appeared to show as many as four cans of spray being used at one point as protesters confronted police officers on foot and on horseback.
Kansas City Police Chief Darryl Forté on Sunday defended officers' handling of protesters, including the use of pepper spray, at presidential candidate Donald Trump's downtown rally.
Forté said on Twitter that the protesters on Saturday evening included a "heavy presence of known anarchists" and "outside agitators."
Darin Snapp, a spokesman for the Kansas City Police Department, said officers used pepper spray outside Mr. Trump's rally in an effort to "prevent protesters from taking over the street in an attempt to fight with rally supporters."
He said no one was injured outside the rally, but two people were arrested — one on charges of throwing a bottle at the theater, and the other on a disorderly conduct charge for his "refusal to stay out of the street."
During the event, inside a grand old theater with inlaid carvings, a chandelier, a mezzanine and upper deck, Mr. Trump, notably hoarse, called on the police to arrest people who were merely demonstrating. He drew some of the audience's loudest cheers when he pledged, "I'll file whatever charges you want."
The police escorted people out throughout the event, though they did not appear to arrest anyone for just speaking up.
At one point Mr. Trump held up the protesters as examples of the kind of people his campaign was massed against: "It's all a little group that wants free lunch."
He also took a shot at another favorite target, the news media: "Look at those cameras, how they bend around," he said, as a group of protesters was led off through an aisle, past the jeering crowd, early in the rally. "They'll do anything for a shot. That's why I love the protesters. The only way we find out how many people are in these places is through the protesters."
Media
As you can see, we were far from what happened and were not involved but he in walked up spraying us pic.twitter.com/f22WB5FAAG

— Chris (@stokith) March 13, 2016
Links
http://www.nytimes.com/politics/first-draft/2016/03/12/police-use-pepper-spray-to-disperse-protesters-outside-trump-rally-in-kansas-city/